Former Australia player Adam Gilchrist turned 49 on Saturday (14 November).
Gilchrist is one of the most successful wicketkeepers in cricket history. On the other hand, he has also established many records in batting.
Former legendary cricketer Gilchrist is the only player to win three World Cups for Australia.
Let's take a look at their great records and figures.
International career has been like this
Wicketkeeper batsman Adam Gilchrist has had an outstanding international career. In his Test career, Gilchrist has scored 5,570 runs in 96 matches at an average of 47.60. Meanwhile, he has also scored 17 centuries.
The left-handed Gilchrist has scored 9,619 in his ODI career and 272 in T20.
Gilchrist has been more successful as an opener in ODI cricket. He came to start the innings with Matthew Hayden.
Highest run as a wicketkeeper in Test cricket
Gilchrist is the wicket-keeper batsman to score the most runs (5,570) and the most centuries (17) in Test cricket. He is followed by Mark Boucher (5,515) and Mahendra Singh Dhoni (4,876).
Gilchrist's name is recorded in World Cup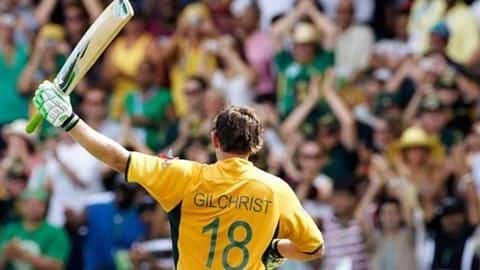 Australia have won the ICC World Cup three times in a row (1999, 2003 and 2007) and Gilchrist has been a part of the world winning team three times.
He is still the second highest run-scorer for Australia in the World Cup.
Gilchrist scored a mammoth 149 off 104 balls against Sri Lanka in the 2007 World Cup final, the highest individual score in a World Cup final.
Gilchrist is the captain who won the IPL
A year after his retirement in international cricket, Gilchrist captained the Deccan Chargers (now Sunrisers Hyderabad) in the Indian Premier League (IPL). However, he could not do much as a captain in the first season, but in the second season under his captaincy the team became the winner.
Gilchrist has scored 2,069 runs in 80 matches in his IPL career. Meanwhile, he has also scored two centuries.
Gilchrist has been a successful wicketkeeper
Gilchrist is the second highest hunting wicketkeeper in international cricket. He has hunted 905 in 396 matches. Meanwhile, he has made 813 catches and 92 stumpings. Only Mark Boucher has hunted them more than them.
In addition, Gilchrist is the second-highest wicket-keeper in Tests (416) and ODI cricket (472).
Gilchrist's agility and promptness behind the wicket was made.