Delhi Chief Minister of Arvind kejriwal On Monday morning, the protesters reached the border to meet the farmers.
Kejriwal was accompanied by all the ministers in his government, including Manish Sisodia. During this time Kejriwal reviewed the facilities there and interacted with the farmers.
After this, while addressing the media, Kejriwal said that all the demands of farmers are valid. Delhi Government And his party stands with the farmers in this struggle.
Justified farmers demand- Kejriwal
Kejriwal said, "We are standing with the farmers from the beginning. I agree with the demand of the farmers. I think all the demands are justified. The government should listen to them."
Kejriwal further said that he has come among the farmers today, not as the chief minister but as his serviceman.
After taking stock of the system there, he said that there is some water problem, which will be removed as soon as possible.
The movement benefited from not turning stadiums into jail – Kejriwal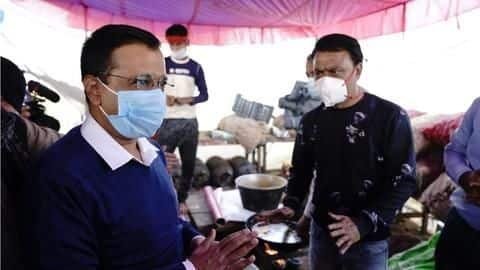 The Chief Minister of Delhi said that when Farmer If the movement started central government Had asked him permission to build nine stadiums as temporary jails for the capital. He was also pressurized for this.
Kejriwal said, "I got a lot of calls, a lot of pressure too, but I listened to Jamir. I think the movement was strengthened because of that decision. The central government was planning to put the farmers in jail."
Delhi government rejected police application
In fact, the Delhi Police had sought permission from the Kejriwal government to convert the nine stadiums into temporary jails in view of the farmers' Delhi march. Saying the government Rejected the application That the farmers are agitating peacefully and their demands are justified.
Aam Aadmi Party supports India bandh
Farmers protesting on agricultural laws on 8 December India off Has called. Kejriwal's Aam Aadmi Party has supported this bandh.
Kejriwal said, "Today the farmer is in trouble. We must stand with him. The Aam Aadmi Party supports the Bharat Bandh of 8 December. Party workers will join the Bharat Bandh."
Apart from the Aam Aadmi Party, more than 10 parties have supported the Bharat Bandh.
Farmers are stuck on the border of Delhi
Farmers of many states, including Haryana and Punjab, have stuck to the Delhi border in protest of agricultural laws.
The government is ready to amend the laws, but the farmers say that they will continue their movement until the laws are withdrawn.
There have been five discussions between farmers and the government to resolve this issue, but no solution has been found.
Now the next round of meeting will be held on 9 December.