While there is a slight decrease in cases of corona infection in the country, Gujarat In the capital of Ahmedabad, cases of infection are increasing rapidly.
In view of this, the government has decided to introduce the nighttime curfew again in the capital from Thursday.
This curfew will continue daily from 9 am to 6 am. During this time no one will be allowed to move out of the house except for essential services.
Number of infected reached 45,000 in Ahmedabad
According to data from the Gujarat Health Department, there has been a sharp jump in infection cases in Ahmedabad since Diwali.
This is the reason that the number of infected has reached 45,000 with 220 new cases in the city on Thursday.
Out of these, about 2,000 patients have so far The death Has been done and more than 40,000 patients have recovered after treatment. Similarly there are about 3,000 active cases.
Increase in cases of infection after Diwali- Gupta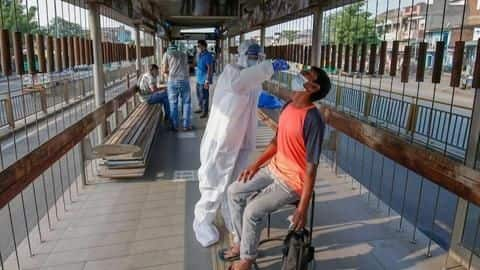 Dr. Rajeev Kumar Gupta, Additional Chief Secretary and in-charge of Corona Management in Ahmedabad, said that cases of infection have increased rapidly since Diwali in the capital. In the festive season, people are negligent in applying masks and adhering to social distancing. Due to this, matters have arisen.
He informed that the night curfew system has been re-implemented to control rising cases.
40 percent corona bed is empty in ahmedabad
Dr. Gupta informed that the government has allocated 20 additional ambulances, 300 doctors and 300 medical students for Ahmedabad to control the rising infection in Ahmedabad. Apart from this, high level teams of Central Government also left for Gujarat.
He said that the city currently has 40 per cent, or about 2,800 corona beds empty. In such a situation, there is no problem in treating the infected.
There are 900 mobile medical vans in Ahmedabad
Dr. Gupta informed that there are currently 900 mobile medical vans and 550 Corona Sanjeevani vans in Ahmedabad. In the same way, 150 daily mobile medican vans and 100 vans with '104 fever help' are being used.
This is the condition of corona infection in India and Gujarat
In the past 24 hours 45,576 new cases of infection have been reported in India and 585 patients have died.
in country Total number of infected There have been 89,58,483 deaths and 1,31,518 of these patients have died. The number of active cases comes to 4,43,303.
Similarly, the number of infected persons reached 1,91,642 with 1,281 new cases in Gujarat. Of these, 3,823 patients have died and 1,75,362 patients have been cured.