Australian opener batsman David Warner has been ruled out of the third ODI and T20 series with an injury. Darcy Short has been included in the T20 squad, who made his last match against India in Bengaluru in February 2019.
In the second ODI, Warner was injured during fielding, after which he left the field immediately.
At the same time, Pat Cummins will not participate in the remaining limited overs series.
Warner was injured during fielding
Warner was injured while trying to stop a shot played by Shikhar Dhawan in the fourth over during India's batting in the second ODI.
Warner, groaning in pain due to groin strain, immediately left the field and did not return to fielding again.
To get off the field, Warner had to resort to the team's physio and teammates.
He scored 83 runs off 77 balls in this match.
This is how Short's T20 career has come in place of Warner
Australia have included Short in the squad for the T20 series in place of Warner. Short has scored 592 runs in 20 T20 matches for Australia at an average of around 33. Meanwhile, he has also scored four half-centuries.
Warner and Cummins included in our test series plans- Langer
Fast bowler Pat Cummins is not injured, he has been rested before the Test series.
Australia coach Justin Langer said, "Pat Cummins and David Warner are in our plans for the Test series. The injured Davy (Warner) will go through his rehab process. The priority of both players is to prepare for the home Test series. , Which is important for scoring points in the World Test Championship. "
Warner is seen in a great rhythm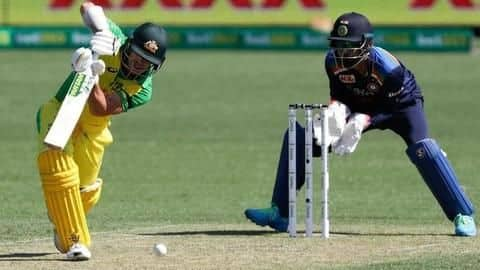 Warner's performance in the current series against India has been excellent and he has scored half-centuries in two consecutive matches. In the first ODI, he scored 69 runs in 76 balls and 83 runs in 77 balls in the second ODI.
In both matches, he, along with captain Aaron Finch, gave Australia a great start and formed an opening partnership of over 100 runs.
Warner has been in excellent form since the Indian Premier League.
Australia won the second ODI by 51 runs
Australia scored a big score of 389/4 with the help of Steve Smith (104). From the host team, David Warner, Aaron Finch, Marnus Labuschen and Glenn Maxwell played half-centuries.
The Indian team could only manage 338 runs after losing 9 wickets in the pocket. Captain Virat Kohli contributed the most 89 runs. Apart from these, vice-captain KL Rahul also scored a half-century. The third match of the ODI series will be played on 02 December in Canberra.
Australia captures the frozen series
Australia have captured the series after beating India by 66 runs in the first ODI and 51 runs in the second ODI. He scored a big score of 374/6 in the first ODI and 389/4 in the second ODI.