Australian fast bowler Ken Richardson has distanced himself from the ODI and T20 series ahead of the ODI series against India starting on 27 November.
Richardson, who recently became a father, wants to spend time with his family and that is why he distanced himself from the Limited Overs series.
Cricket Australia (CA) has confirmed the news and Andrew Tye has been replaced in the squad.
This is a very difficult decision for Ken- National Selector
National Selector Trevor Hawns said in his statement that the decision was difficult for Kane, but he got the support of the entire team and the selectors.
He added, "We will always support our players and their families and this support will be more especially in these difficult situations. We will miss their skills in the team, but we fully understand their decision."
That is why Kane did not participate in IPL
Richardson was bought by Royal Challengers Bangalore (RCB) for the Indian Premier League (IPL) 2020 for four crores.
However, due to the birth of her first child, she found herself Remove from IPL Had taken.
He returned to Australia after the England tour and was replaced by RCB with Adam Zampa.
He is currently in Adelaide with his family and cases of corona virus are also increasing rapidly there.
The last match for Australia was played in November 2018.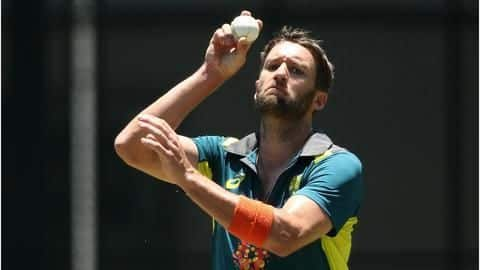 Having played seven ODIs and 26 T20s for Australia, he has been included in the squad in place of Richardson.
Tye last played for Australia in November 2018.
Australia's 21-man squad for the tour of England in September was also included in the tie, but did not get a chance to play a single match.
He has taken 37 wickets in T20 and 12 in ODIs.
Richardson's career has been like this
Richardson, who made his international debut in 2013, has taken 39 wickets in 25 ODIs and 22 wickets in 21 T20s. On the tour of England, he played only in T20 series.
Full schedule of ODI and T20 series
One day series schedule:
First ODI: 27 November (Sydney)
Second ODI: 29 November (Sydney)
Third ODI: 02 December (Canberra)
T20 Series Program:
First T20: 04 December (Canberra)
Second T20: 06 December (Sydney)
Third T20: 08 December (Sydney