You must have heard a lot about the Jabra fans of Bollywood stars and sportspersons, who stand outside their house for many hours or take a similar look to them in order to meet them.
Today we will give you the Chief Minister of Bihar Nitish Kumar K will tell about such 'Jabra Fan', who has so far sacrificed four fingers for his becoming the Chief Minister. The name of this fan is Anil Sharma aka Ali Baba.
Cut her fourth finger on monday
TOI According to Anil Sharma alias Ali Baba (50), a resident of Vaina village in Ghosi block of Jehanabad district, calls himself Chief Minister Nitish Kumar a big fan.
They Bihar Assembly Elections In Nitish Kumar's victory and on becoming the Chief Minister, he has pledged to cut off one finger of his left hand and offer it to the local deity Goraiya Baba. In such a situation, on Monday, he has completed his pledge by cutting off his fourth finger.
Anil cut his first finger in the year 2005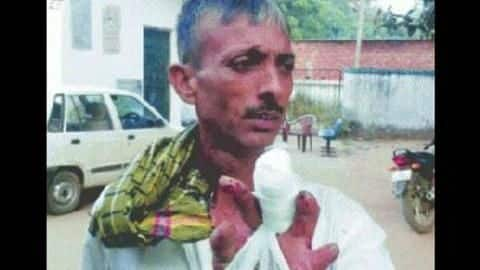 Anil said that he had promised to cut the finger of Goraiya Baba in place of Nitish Kumar in the 2005 assembly elections.
He fulfilled his promise after Nitish became the Chief Minister. He has since done so in the 2010 and 2015 elections as well.
This time too, he had decided to sacrifice the finger when Nitish Kumar came to power and he fulfilled it.
Chief Minister Nitish Kumar is also unknown
The Chief Minister himself is also unaware of his Jabra Fan in Bihar. Anil said that he wants to meet the Chief Minister once and he has been waiting for one of his calls for so many years. Now we have to see when the Chief Minister calls him.
Anil works as a gardener in Chennai
Anil said that he works as a gardener in Chennai. He reached his village only last week after the assembly election results and Nitish Kumar became the Chief Minister.
After this, he cut off the fourth finger of his hand on Monday and dedicated it to Goraiya Baba. Later immersed her in the Ganges.
He said that Nitish Kumar is the only leader in the state who can develop the state with justice.
Cut finger in front of villagers
Rural Sanjay Kumar said that on Monday, Anil had cut his fourth finger in front of the villagers and climbed on Goraiya Baba. He has been doing this since 2005 and has so far cut four fingers.
He told that Anil has promised to do so after cutting the fourth finger in the future even if Nitish becomes the Chief Minister.
Another villager Mrityunjay Kumar said that many villagers are scared of his work.
After the result, this is the position of the parties in Bihar
After the Bihar election results, the NDA got 125 seats, the Mahagathbandhan 110 and the Lok Janshakti Party got eight seats including other parties. Similarly, RJD has got 75 seats, BJP 74, JDU 43 seats, Congress 19 seats and Left parties 17 seats.