The bike has to be taken care of to keep it in good condition. It is also very important to take care of the chain, one of its important parts.
For this, you do not necessarily have to take the bike to the service center again and spend your money.
With the help of some tips at home, you can take care of the bike chain and keep it in good condition for a long time.
It is necessary to maintain adequate tension
If the bike chain does not have enough tension then it can deteriorate quickly. Do not tighten the chain, nor keep it too loose. If this happens, she may soon deteriorate.
If you are hearing any sound while riding a bike, then understand that its chain is loose.
Due to the chain being too loose, it takes off the sprocket and thus an accident can occur. Therefore keep adequate tightness.
Avoid applying excess sticky grease
Most people apply more sticky grease to the bike chain. Due to this, dust accumulates on it and its wear increases.
Try to use a thin lubricant like ink oil in the bike chain.
Apart from this, separate lubricants also come for the chain. Can also use them.
If it falls over the chain, do not leave it. Wipe it with a cloth.
Keep cleaning the chain
Many times it happens that people clean the bike in a hurry and do not clean the chain.
This should be avoided. Cleaning the chain should be done regularly. Use kerosene oil while cleaning it.
Clean gently with the help of a soft brush.
Explain that by keeping it clean, the risk of spoilage is reduced.
Cover up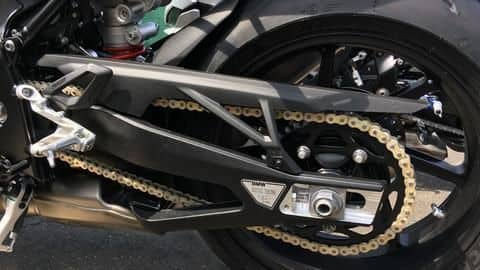 The bike chain cover should never be removed. If the cover breaks, get a new one.
When there is no cover, more dust and soil freeze on the chain. Also, rain and sunshine also have a greater effect.
However, today's bikes have a chain cover open. Therefore he needs more care.
Keeping all these things in mind, you can keep the chain fine.