central government Said on Friday that only two-wheelers in India would be manufactured and sold by the Bureau of Indian Standards (BIS) certified helmet.
The move will prevent the sale of poor quality helmets in the country.
Right now people buy poor quality helmets found on the roadside to avoid police and fines, which puts the risk of serious injury in case of an accident.
Good helmet prevents serious injuries
Road transport And the statement issued by the Ministry of Highways said that high quality and BIS-certified helmets help protect people from serious injuries at the time of the accident.
Tell me that road safety But on the directions of the Supreme Court committee, the government formed a committee to consider weather-friendly helmets in India. Its job was to provide helmet recommendations.
The committee submitted recommendations to the government in 2018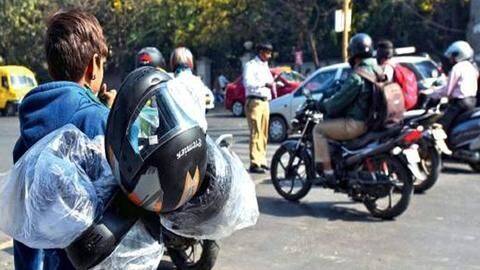 The committee consisted of experts from different fields including BIS and All India Institute of Medical Sciences (AIIMS).
The committee submitted its report in March 2018. In this, a lightweight helmet was recommended from the government. The government has now accepted these recommendations.
After the committee's report, the BIS had changed its conditions, after which the lighter weight helmet will now be able to get the certificate and two-wheeler riders will be able to wear it.
Making and selling local helmets will be illegal
Let me tell you, 1.7 crore two-wheelers are made in India every year. Now after the implementation of this rule, manufacturing and selling inferior quality helmets will be prohibited. Also, two-wheeler riders wearing such helmets will be fined.
International organization welcomed the government's move
The government has started the process of making BIS certified helmets mandatory in August this year, taking important steps towards road safety.
At that time the Ministry had said that this step is being taken to reduce fatal accidents due to two-wheelers.
The Geneva-based International Road Federation has welcomed the government's move. The Federation has said that such a step was being awaited for a long time.
Statistics related to accidents are frightening in India
According to the Ministry of Road Transport and Highways, there was an increase of 0.46 percent in 2018 compared to 2017.
In 2017, there were 4,64,910 accidents. In 2018, this number increased to 4,67,044.
During this period, the death rate also increased by about 2.37 percent. In 2018, 1,51,471 people lost their lives in road accidents compared to 1,47,913 in 2017.
However, there was a slight decline in the number of injured during this period.