Automobile company BMW Has launched the X5 M competition in India.
It is one of the company's powerful SUVs. It has been launched in the Indian market with a starting price of Rs 1.94 crore.
Let us know that this car equipped with many great features and powerful engine is competing with cars like Audi RSQ8.
Know this in detail before buying it.
Equipped with many features including sun roof
This BMW SUV also features Sun Roof, Moon Roof and Roof Rail features.
This car has a 2972mm wheelbase as well as run flat alloy wheels.
The car comes with rain sensing wipers, rear window washer and power windows.
Lighting features like DRLs, LED headlights, and LED taillights are provided in the car.
Also, this car is equipped with lighting features like front and back adjustable headlights and fog lights.
Cabin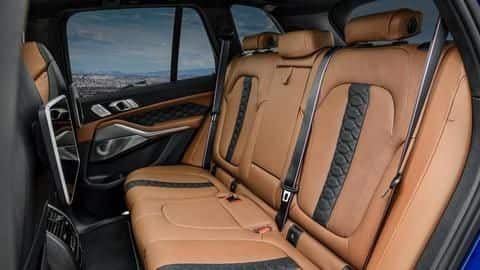 The cabin of this SUV has seating for five people. Apart from this, it also has a multi function power leather steering wheel.
The X5 M is equipped with a competition voice control feature and a touchscreen infotainment system.
At the same time, many features like Bluetooth and Android Auto have also been provided for connectivity.
This SUV can accelerate to 100 kmph in 3.8 seconds. Its top speed is 250 kmph.
Engine is very strong
It is powered by a 4.4-liter V8 petrol engine with twin power turbo technology, which gives power of 600bhp and torque of 750nm. Additionally, its engine comes with an eight-speed gearbox.
Many features given for safety
Keeping in mind the safety of passengers, the car has several airbags along with driver airbags and passenger airbags.
Along with this, it has been launched with dry braking function, cornering brake control and city braking facility.
It also offers dynamic stability control, parking assist with reversing assistant, and dynamic brake control.