The Indian team of 12 won their first gold medal in the FIDE (International Chase Federation) at the online Chase Olympiad in August 2020.
India and Russia were jointly declared winners due to a server malfunction.
The vice-captain of the Indian team, Srinath Narayan, has now revealed that he had to pay tax to people of custom to take the gold medal.
Let's know the whole news.
Many types of papers had to be shown to the officials
Mint During a recent interview with Narayan, he said that he had shown many papers to the customs officials.
"He opened the package and asked me what's inside it. I had to give him an official paper about the chemical composition. Despite that the gold medal won in a competition is not really gold," he said.
Narayan told the whole matter on Twitter
The medals are here! Thank you @FIDE_chess. On the way to dispatch them to the rest of the team now.

It wasn't easy getting it! It reached from Russia to India in three days, but took more than a week to reach from Bangalore to India, and had to pay customs duty! pic.twitter.com/vVGAbFQ8N5

– Srinath Narayanan (@ nsrinath69) December 2, 2020
Fed up and paid – Narayan
Courier service after one week DHL Express India Pvt Ltd Has transported the package from Bangalore to Chennai.
He asked Narayan to pay customs duty of Rs 6,300 for medals.
Narayan said that he did not understand why this amount was demanded from him because the central government has set a separate rule for it.
He said, "I was so fed up with all these things, I paid the money."
The company contacted, promised to return the money
Narayan had expressed his trouble on Twitter only on December 02 and people took it seriously.
Giving the update last Friday, he wrote, "Glad that more than half of the players have reached the medal. DHL Express contacted me and apologized to me for the trouble. They have promised to return the money. One of the Sports Ministry The spokesperson has also approached for support. "
India and Russia declared joint winners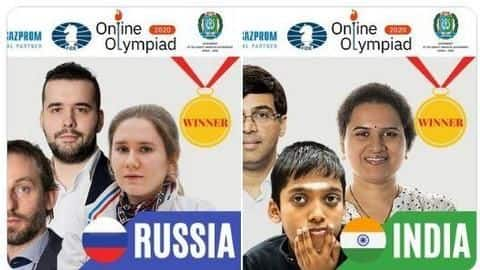 India and Russia were declared joint winners in the 2020 FIDE Online Chase Olympiad.
The finalists had trouble due to internet failure and server trouble.
India lost in the second round by 1.5-4.5 and then lost the entire match on Sunday.
The Indian team had appealed to the Review Committee of FIDE in a simple manner regarding the problem of the Internet and the committee decided to give the title to both.