The total number of corona infects in India has crossed 91 million.
Days in the country Corona virus 44,059 new cases of infection were reported and 511 patients succumbed to it.
With this, the total number of infected has increased to 91,39,865. Of these, 1,33,738 people have lost their lives due to infection with this dangerous virus.
The number of active cases has increased to 4,43,486 since last day.
Recovery rate and testing
41,024 patients recovered last day
Talking about the patients who get cured, 41,024 patients of Corona virus were cured across the country on the last day, which was less than the new cases.
With this, the total number of patients recovering has been 85,62,641. The country's recovery rate is 93.69 percent.
Apart from this, 8,49,596 tests were conducted across the country in the last 24 hours. Since the onset of the epidemic, about 13.26 crore corona virus tests have been conducted in the country.
More than 100 deaths in Delhi for the third consecutive day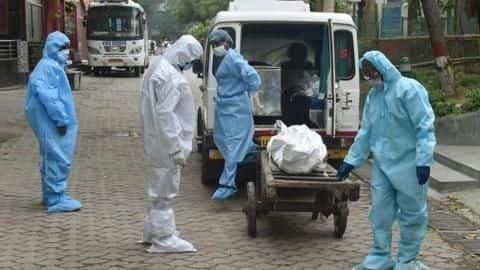 National capital facing third wave of epidemic Delhi There have been more than 100 deaths on the third day in a row.
Last day, 6,746 new cases of corona virus were reported in Delhi and 121 people died due to this.
With this, the total number of infected in Delhi has been 5,29,863. Of these, 8,391 people have lost their lives due to corona virus. The number of active cases here is 40,212.
Maharashtra decided on lockdown in 8-10 days
Maharashtra Deputy Chief Minister Ajit Pawar again in the state amid fast-growing Corona cases Lockdown There are indications for installation.
He said, "A huge crowd was seen during Diwali. We saw the same during Ganesh Chaturthi. We are talking to the concerned departments about this. We will review the situation in the next 8-10 days. After this the lockdown Will be decided. "
Prime Minister's important meeting with Chief Ministers on Tuesday
Prime Minister Narendra Modi on Tuesday through video conferencing with Chief Ministers and representatives of all states and union territories Will meet.
The plan for vaccine delivery will be discussed in the meeting. At the same time, the Prime Minister will review the conditions created due to Corona virus epidemic in the country.
This meeting is taking place at a time when the potential vaccine of Oxford University and AstraZeneca in India Emergency Use Clearance The possibility of meeting is being expressed.
So far 5.85 crore people infected worldwide
Johns Hopkins University According to this, around 5.85 crore people have been infected with the corona virus so far worldwide. Of these, 13.86 lakh have died.
In the most affected US, 1.22 million people have been infected and about 2.58 lakh people have died. America is the only country with more cases than India.
In Brazil, number three, out of 60.71 lakh infected, about 1.69 lakh patients have died.