Corona virus In view of increasing cases of infection Gujarat, Now after Madhya Pradesh and Rajasthan Himachal Pradesh The government has also decided to impose nightly curfew in the four worst affected districts.
These districts include Mandi, Kangra and Kullu including the capital Shimla. There will be a night curfew from 8 am to 6 am every day. Only shops connected with essential services will be able to remain open during the curfew period.
Decision to impose curfew in cabinet meeting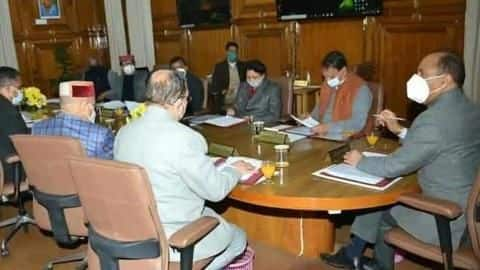 National herald According to the meeting of the Himachal Pradesh Government Cabinet was held on Monday under the chairmanship of Chief Minister Jairam Thakur.
It was decided to impose curfew in Corona Shimla, Kangra, Kullu, and Mandi districts from December 8 to 6 in the morning to control the transition.
In Shimla and Mandi districts, on an average, 10 deaths and over 2,000 infection cases have been reported in the last 15 days.
All educational institutions will remain closed till 31 December
In the cabinet meeting, it has been decided to keep all educational institutions of the state closed till 31 December.
However, online classes will begin on 26 November. Teachers will also continue to study online till further orders. The offices of school-colleges will be open from 26 November. The decision of online classes will be at the discretion of the principal.
Similarly, there will be a winter holiday from January 1 to February 12, 2021. Online classes will continue during this period.
Half of the third and fourth class employees will be present
It has been decided to limit the attendance of third and fourth class government employees to 50 per cent in the cabinet meeting.
In this, 50 percent employees will come to office on the first three days of the week and the remaining 50 percent on the next three days. The same process will continue till 31 December.
Similarly, the government has also increased the amount of fine on those who roam without applying masks from Rs 500 to Rs 1,000 and has directed strict action.
This is the condition of corona infection in Himachal Pradesh
In Himachal Pradesh the number of infected reached 34,327 with 627 new cases. Of these, 537 have died so far and 26,756 patients have been cured.
The number of infected reached 5,521 with 3,023 cases reported in Shimla in November.
Similarly, Mandi has reached 5,516 cases with 2,491 new cases in November and 3,565 in Kullu with 1,515 new cases reported in November.
Thorang village in Lahaul district found 41 people infected
Let me tell you all except one person in Thorang village of Lahaul district of Himachal Pradesh 41 people corona virus Were found to be infected with. The incident drew concern over the foreheads of the government and medical authorities.
Nightly curfew has been imposed in these cities too
The nightly curfew was first announced in Ahmedabad on 19 November. After this, on 20 November, the Gujarat government also took part in Rajkot, Surat and Vadodara. Imposed curfew Was.
On the same day, the Madhya Pradesh government announced a curfew in the capital Bhopal, Indore, Gwalior, Vidisha and Ratlam districts from 10 am to 6 am.
after that Rajasthan The government also announced curfew in Jaipur, Jodhpur, Kota, Bikaner, Udaipur, Ajmer, Alwar and Bhilwara.