A three-match ODI series is to be played between Australia and India, which is to begin from 27 November.
Apart from this series, a three-match T20 and a three-match Test series are also to be played between the two countries.
Australia's aggressive opener David Warner has a fairly good record against India.
Let's take a look at the records that could make Warner during the ODI series.
Warner's career and performance against India
Warner has scored 5,303 runs in 126 ODIs at an average of 44.94.
Warner has a strike-rate of 95.42 in ODIs.
He has scored 18 centuries and 21 half-centuries so far with 179 being his highest score.
Warner has scored 838 runs against India at an impressive average of 49.29. He has scored three centuries and four half-centuries against India.
Warner may become 10th Australian to score 1,000 ODI runs against India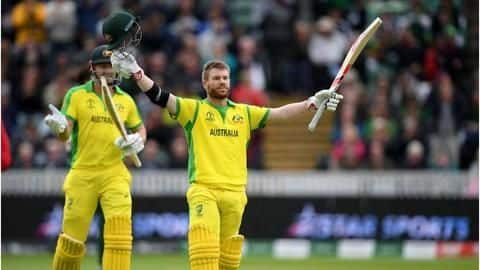 Warner is only 162 runs away from completing his 1,000 ODI runs against India.
He could become the 10th Australian batsman to do so.
During this time, he can also overtake Michael Clarke (858), Geoff Marsh (943) and Mark Waugh (974) in scoring runs against India.
If Warner bats in the three-match ODI series, he will surely achieve these achievements.
Warner can also create these records
Warner can beat former Australian batsmen Damien Martin (5,346) and Michael Hussey (5,442) in terms of ODI runs.
Warner needs to hit 13 fours to leave Shane Watson (570) behind in terms of fours.
He (82) can overtake Matthew Hayden (87) in the matter of sixes.
With a century, Warner can become the second highest century batsman for Australia.
Warner can become the fifth Australian to achieve this feat
Warner, who was not out for a single time against India, has hit 87 fours against him. He could become the fifth Australian batsman to hit 100 fours against India.