Arabian Sea The body of the missing pilot of the Indian Navy's fighter aircraft MiG-29K, which crashed in the past days, has been found close to the accident site after 11 days.
His DNA test has been done to confirm the corpse properly and his report is expected by late evening.
Although the Navy officials have said that the dead body is of the missing pilot, but DNA test has been done for official confirmation.
The aircraft was accidentally hit on 26 November
Let me tell you that on 26 November, the naval fighter aircraft MiG-29K had taken off from INS Vikramaditya, but it was accidental after some time.
Another pilot, rescued by the Navy, had rescued another pilot, but pilot Nishant Singh was not found there.
After this, the army started the task of locating the aircraft and found the wreckage of the aircraft three days later on 29 November.
14 aircraft engaged with nine warships in search operation
After the plane crashed, a search operation was launched to find its wreckage and the missing pilot. It had nine warships as well as 14 aircraft and several smaller ships.
Similarly, fast interceptor craft were also deployed along the coast for exploration in the water.
The teams then recovered the aircraft's landing gear, fuel tank and engine, but the missing pilot's seat was not found.
Pilot Nishant's body found 30 miles from Goa beach
The statement released by the Navy said that the body of the missing pilot Nishant Singh on Monday Goa Is found at a depth of 70 meters of water, 30 miles off the coast.
According to the statement, according to the Army rules, the family of the pilot has been informed and DNA test has also been done.
Please tell that DNA test of the dead body is done for official confirmation in the army.
India bought 45 MiG-29K aircraft from Russia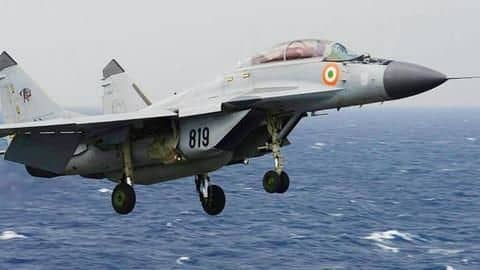 Let me tell you that the MiG-29K fighter aircraft is Russia-made. It has a length of 17.32 meters and can carry a maximum weight of 18,000 kg (44,100 lb).
Its fuel capacity is 3,500 kg (7,716 lb). This Vaman is equipped with a K-36D-3.5 ejection seat and is among the most sophisticated planes in the world.
The government had purchased 45 MiG-29K fighter jets from Russia for use from INS Vikramaditya.
Aircraft have been accidental even before
Let me tell you that on 16 November last year and on 23 February this year, two MiG-29K fighter jets crashed in the Arabian Sea in Goa. However, the pilots were rescued. After this, the government ordered an inquiry.