England took an unassailable 2–0 lead in the T20 series after beating South Africa by four wickets in the second T20 match played at Boland Park.
The batting of South Africa came down to bat first and the entire team could only score 146/6.
Chasing the score, England easily captured the match thanks to David Malan (55). Let's know how the match was.
South Africa's start is bad
In the fourth over itself, South Africa got the first blow on the score of 33.
Faf du Plessi, who scored a half-century in the last match, could only score 11 runs in this match.
Captain Quinton Dickock scored 30 off 18 balls, but could not convert a good start into a big innings.
By the 14th over, the team had lost five wickets to a score of 95.
South Africa reached respectable score with Dusen and Linde's partnership
Rasi van der Dussen (25 *) and Jorde Linde (29) shared a 44-run partnership for the sixth wicket to bring their team to a respectable score.
Linde faced 20 balls and hit two fours and a six before being runout in the 19th over.
Van der Dusen faced 29 balls and could not make a quick run in the end of a single.
Jordan became the most T20 International wicket taker for England jointly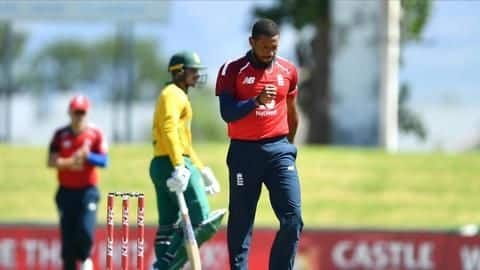 Chris Jordan, who took one wicket for 29 runs in four overs, has become the joint highest bowler for T20 International wickets for England.
He has equaled Stuart Broad (65).
Adil Rashid (2/23) has 51 T20 International wickets and has equaled Graeme Swann (51).
He has become the second highest T20 wicket taker for England combined.
Shamsi did her best T20 International performance
South African spinner Tabrej Shamsi took three wickets, spending only 19 runs in his four overs. This is his best performance in T20 International. He sent Jose Butler, Johnny Bairstow and Ben Stokes to the pavilion.
This is how England achieved victory
Batting first, South Africa scored 146/6. Dickock (30) was the highest run-scorer for the team.
Apart from Rashid (2/23) for England, Joffra Archer (1/18) also bowled brilliantly.
England's score was 83/4 until the 14th over, chasing the score. David Malan (55) held one end and Morgan (17 balls 26 *) played a quick innings.
Shamsi (3/19) was the best bowler in South Africa.