Corona virus Epidemic To defeat India The clinical trial of Phase III of the vaccine 'Kovaxin', developed by Biotech, has started.
It will start in Haryana from November 20. State Home and Health Minister Anil Vij has informed about this.
He has also offered to become a Volunteer for the Phase III trial of the vaccine. In such a situation, they are now expected to be given vaccine supplements.
The company received the approval for the third phase trial last month
After the results of the first two phases of 'Kovaxin' were better, the Drug Controller General of India (DCGI) approved the proposal of the third phase of the Tralaya sent by the company on 22 October. After this the company started preparations.
Health Minister Vij expressed desire to take first dose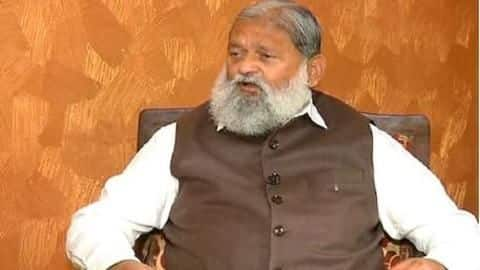 Health Minister Anil Vij tweeted, 'The third phase clinical trial of Kovaxin, prepared by India Biotak as a corona virus vaccine, is starting in Haryana from November 20. I have offered to be the first Volunteer to get myself vaccinated in the covicin test. '
It is evident from his tweet that he himself wants to convince people by joining the vaccine race.
These hospitals in Haryana will have a third phase trial
India Biotech has selected 20 hospitals in the country for the third phase clinical trial.
It includes Pandit Bhagwat Dayal Sharma Health Sciences University in Rohtak, Haryana and ESIC Hospital in Faridabad.
The third phase of trials will have the maximum 2,000-5,000 thousand volunteers in AIIMS trials. The remaining other hospitals will include a lesser number of volunteers.
Patients can also be involved in Phase III trials
Kovaxin Research Co-Investigate Dr Ramesh Verma said that permission has been given to start the Phase III trial.
In this phase, in addition to health workers, doctors, nurses, pharmacists, lab technicians, patients with controlled sugar, blood pressure, heart and asthma can also get vaccinated.
Explain that in 20 research centers across the country, 25,800 volunteers will be given Kovaxin supplements. This stage will prove to be very important in the discovery of the vaccine.
No Volunteers have faced problems so far
Dr. Ramesh Verma said that in the first phase, the institute has given doses of covaxine to 375 volunteers and 380 volunteers in the second phase. Now the third phase will include more than 1,000 volunteers.
All the volunteers who have been dosed in two phases have not yet had any side effects. Not only this, there is no report of any Volunteer getting corona infected. In such a situation, expectations have increased from this vaccine.
AIIMS also sent proposal for third phase trial
Dr. Sanjay Rai, Professor, Department of Community Medicine, Delhi AIIMS, for 200-300 pages for the Phase III trial Process ready The Ethics Committee was sent to the institute for tax clearance. After its approval too, on Monday, the company announced to start the trial.
Bharat Biotech plans to recruit 25,800 volunteers at 25–30 hospital sites in 13–14 states.
This is the condition of corona infection in India and Haryana
In India, 38,617 new cases of infection have been reported in the last 24 hours and 474 patients have died.
in country Total number of infected 89,12,907 and 1,30,993 of these patients have died. The number of active cases comes to 4,46,805.
Similarly, the number of infected in Haryana has reached 2.04 lakh. Of these, 2,063 patients have died and 1.83 lakh patients have been cured.