A speeding truck collided in Mundhal village of Bhiwani district of Haryana Farmer Was killed and two others were injured.
These farmers ride on a tractor-trolley Delhi Were going Meanwhile, on Friday morning, a high speed truck hit his trolley.
Identification of deceased farmer Punjab K. Tanna Singh, a resident of Mansa district.
The accident occurred at around 5:30 in the morning
Giving information about the incident, Bhiwani police said that the accident occurred at around 5:30 am, when the farmers were going to Delhi to protest against the agricultural laws.
Police said that when the farmers reached near Mundhal, a truck coming at a high speed hit their trolley. Due to this, one farmer died on the spot and two others were injured.
The injured have been rushed to the hospital.
The farmers refused to hand over the dead body
Other farmers who were going to Delhi after the accident also gathered at the scene. Police said that the farmers have refused to hand over the dead body. Police is investigating the case.
Let us tell you, farmers of Punjab and Haryana are protesting against the three agricultural laws implemented by the central government.
In this series, farmers' organizations are marching towards Delhi with thousands of farmers from Punjab and Haryana.
Farmers spent the night on the highway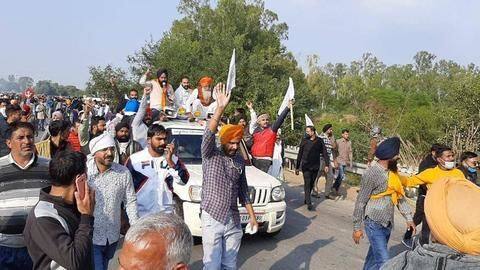 Farmers on the highway in Haryana since morning Spend your night.
A large group of farmers from Haryana are camping at the Panipat toll plaza on the Delhi-Chandigarh highway, 65 km from the Delhi border.
On the same highway, a group of farmers of Punjab have stopped in Karnal, about 100 km from the Delhi border.
Another group of farmers have reached Bahadurgarh on the Sirsa-Delhi highway.
Farmers also present on Rohtak-Jhajjar road
Rohtak-Jhajjar road also has a large number of farmers present. These farmers riding in tractor-trolleys are trying to go to Delhi. A police force has also been deployed here to maintain law and order.
Farmers on Rohtak-Jhajjar Road
Rohtak: Farmers gathered at Rohtak-Jhajjar border, for 'Delhi Chalo' protest march against center's farm laws#Haryana pic.twitter.com/47rtOcYmOv

– ANI (@ANI) November 27, 2020
The group of farmers reached the Sanghu border
A group of farmers have reached near the Singhu border (Haryana-Delhi border). Police have fired tear gas shells at the farmers to send them back from here. Heavy barricading has been done here to stop the march.
A farmer present here told that he is holding a peaceful demonstration and will go to Delhi in a peaceful manner. He said that people should be allowed to perform in a democracy.
Clash between police and farmers at Tikari border
#WATCH Delhi: Farmers and security forces coming to protest in Delhi against agricultural laws clashed at the ticking border. #FarmLaws pic.twitter.com/t22iKqAPy1

– ANI_HindiNews (@AHindinews) November 27, 2020