Senior Indian fast bowler Ishant Sharma could play only one match in the Indian Premier League (IPL) 2020 due to injury.
Ishant is currently recovering from injury and Indian Cricket Team Are eager to join Australia.
The Indian team management also wants Ishant to be fully fit for the Test series.
Let's try to find out what is the importance of Ishant in the Indian Test team.
Ishant will be a very important player in Australia
This will be Ishant's fifth tour to Australia for the first time at the age of 19.
Ishant had badly troubled a legendary batsman like Ricky Ponting on the first tour and consistently dismissed him.
If Virat Kohli & Co. have to save the Border-Gavaskar Trophy won last time, they will have high hopes from Ishant.
The experienced Ishant is going to be a very important player for the team.
Ishant is handling the old ball since Bumrah's debut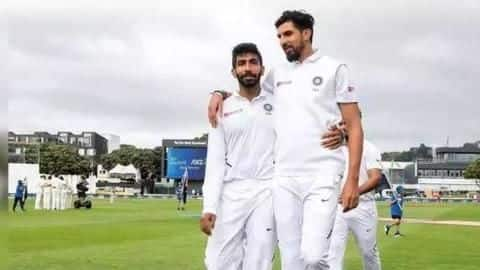 Since Jasprit Bumrah's Test debut in 2018, Ishant has bowled with the old ball and tried to get reverse swing.
Since January 2018, Ishant has taken 53 wickets in 13 matches played abroad. During this, Ishant has also taken five wickets in three innings.
Ishant has consistently taken wickets of big batsmen of the opposition team on important occasions.
The same batsman is forced to make a mistake by putting more balls
Ishant has an economy of three or more, eight years from the start of his Test career.
Test cricket In the economy, it doesn't matter much, but when a bowler throws 4-5 balls of the same batsman in a row, it becomes easy to take his wicket.
In the last 5-6 years, Ishant's Test economy has reduced by three which means he is running on the right line.
Ishant's attitude has changed
Ishant got the tag of a defensive bowler for a long time in Test cricket, but now his attitude has changed.
Now Ishant attacks the batsmen and he constantly hits the hard line.
For right-handed batsmen, Ishant has the art of getting the ball out of the way and with an excellent inswinger in between, he also creates chances to get lbw or clean bold wicket.
Ishant can make these records in test series
With three Tests on the tour of Australia, Ishant will become only the second fast bowler to play 100 Tests for India.
Kapil Dev is the highest 131 Test playing bowler for India.
Ishant, who has taken 297 wickets, also has the chance to become the third Indian fast bowler to take 300 Test wickets.
He can also move to number two, leaving behind Zaheer Khan (311).