Crunchy semolina nuggets, mouth watering as soon as I hear the name! It was bound to happen because it is so delicious. You can make it part of your home parties. At the same time, it is a good t-snack even on normal days.
The good thing is that it does not take much time to cook it at home and you can serve it as a snack.
Let's get crunchy semolina nuggets Recipe Know.
To make crispy semolina nuggets you will need these things
1) One cup semolina
2) a cup of fresh peas
3) Three boiled potatoes (peeled)
4) Green coriander (finely chopped)
5) two green chillies (finely chopped)
6) Half teaspoon turmeric powder
7) One teaspoon Coriander Powder
8) Half teaspoon red chilli powder
9) Half teaspoon dry mango powder
10) Half teaspoon garam masala
11) Salt (as per taste)
12) Refined Oil
note: If you want, you can increase or decrease the quantity of ingredients according to your needs.
First prepare the base of semolina nuggets
First of all, put a vessel on medium flame, add two cups of water, a little salt and two teaspoons of refined oil to it and when the water comes to a boil, slow down the flame and mix it gently by adding semolina to the pot.
Cook the semolina continuously until it becomes thick on low flame, then turn off the gas and allow the mixture to cool slightly.
After this, apply a little oil on the hand and knead this mixture and cover it.
How to prepare stuffing of semolina nuggets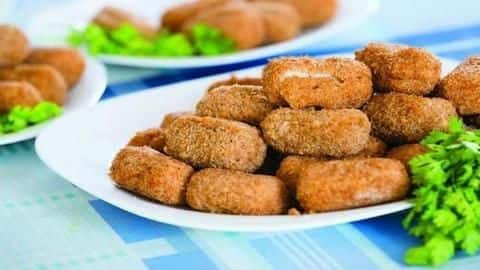 For stuffing, first mash all the potatoes with a spoon, then heat a little refined oil in a pan.
Now put peas in the pan and cook for two to three minutes, then add green chillies, coriander powder, turmeric powder, red chili powder, mango powder and salt, garam masala and green coriander and fry on low heat for one minute.
After roasting the mixture, add mashed potatoes to it and turn off the gas.
How to shape semolina nuggets
When the prepared stuffing mixture has cooled down, then keep the mixture in a plate by giving it a small round shape with hands.
Then break a dough from semolina flour and shape it into a small puri and keep the potato stuffing in it and close it.
Now flatten this stuffed dough with the palm of the other hand and give it an oval shape while pressing from two corners. Make all the dough in a similar way and keep it in a plate.
To fry semolina nuggets like this
First of all, heat the refined oil by placing the pan on medium heat and add the shaped semolina nuggets and fry them till they turn golden brown.
Similarly fry all the semolina nuggets and take them out in a plate. Serve hot crispy semolina nuggets with green coriander sauce or tomato sauce.
Of course, this tasty snack is going to be liked by the kids from the children to elders.