If you are thinking of making something in lunch or dinner that is not only delicious but also beneficial in health, then Makhana cashew curry can be a perfect option for you.
The best part of this recipe is that you can easily make it at home in a few minutes. Let us then know the recipe of Makhana Cashew Curry.
These things will be needed
1) 20-25 cashew nuts
2) One cup of Makhana
3) Four Tomatoes
4) two green chillies
5) 20-25 cashew nuts (soaked in water for one hour)
6) two – three tablespoons coriander leaves
7) Refined Oil (as required)
8) One teaspoon ginger paste
9) One teaspoon Kasuri Methi
10) A pinch of Asafoetida
11) Half teaspoon cumin seeds
12) One fourth teaspoon garam masala
13) One fourth teaspoon turmeric powder
14) One fourth teaspoon red chilli powder
15) Salt (as per taste)
Start like this
First cut the tomatoes and green chillies into big pieces and put them in a mixer jar with soaked cashews and grind them well.
After this, heat a little refined oil in a pan. After the oil is hot, fry cumin seeds first and then asafoetida, ginger paste, turmeric powder and fenugreek fenugreek.
Now add ground tomato spices and red chili powder in the pan and fry it well.
Now fry cashews and makhanas
When you feel that the pan masala has been roasted well, remove the pan from the gas and place a pan on it and heat the refined oil in it.
After heating the oil, fry the dried cashews in it till they become light brown and when all the cashews are fried, take them out in a plate.
Similarly, put the makhanas in the pan and after frying till light brown, take them out in a plate.
How to finalize Makhana Cashew Curry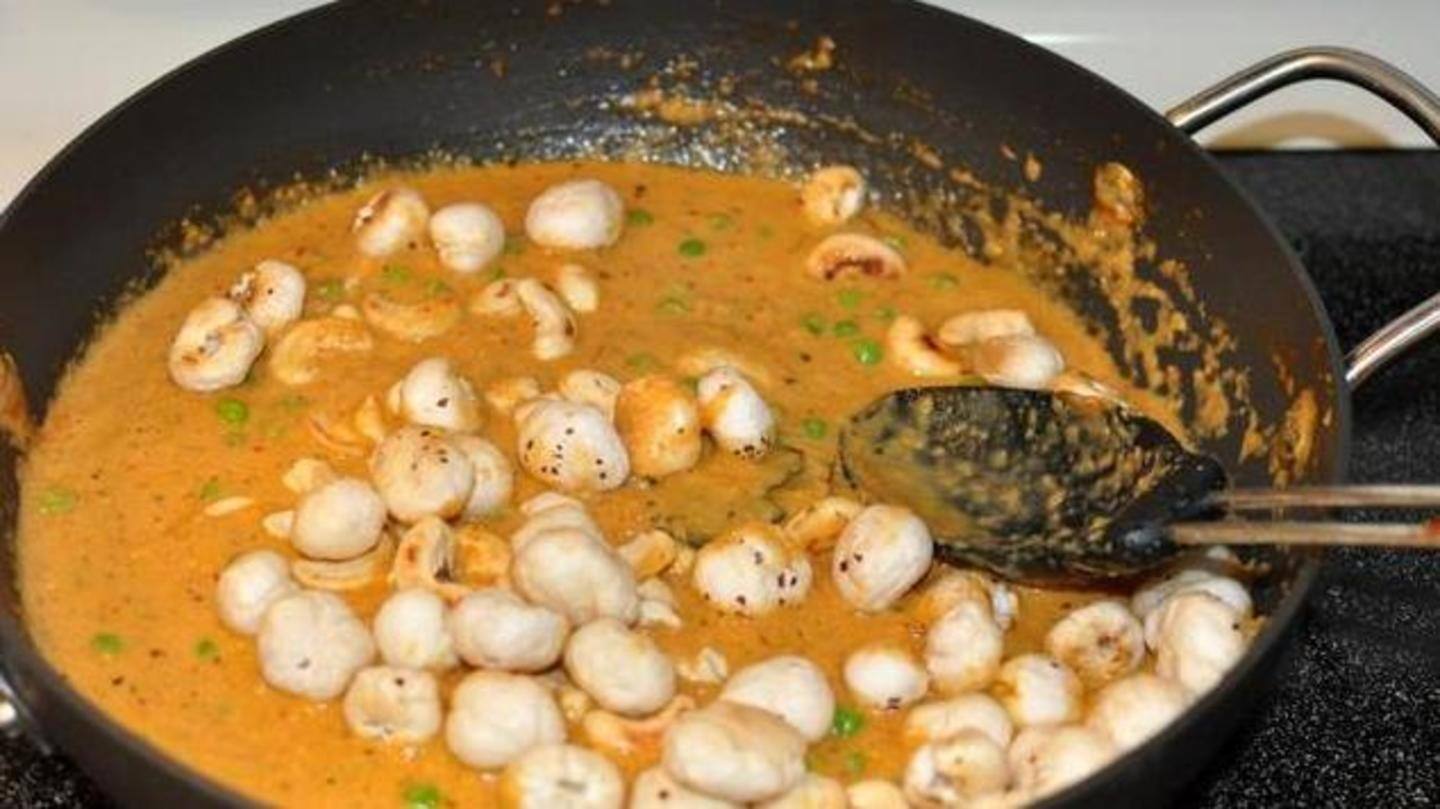 Now put the pan with roasted spices on low heat, add a cup of water, salt, garam masala and finely chopped green coriander and when the gravy comes to a boil then add the fried makhane and cashews to the pan and mix them well.
Cover and cook this vegetable for three to four minutes and then take it out in a bowl.
Now serve Makhana Cashew Curry with Roti, Paratha, Puri or Rice after adding some cream on top.