Care of the feet is as important as the face.
Feet carry the full weight of the body, so if the hygiene and beauty of the feet are not taken care of, then the feet may face many problems, one of them is the emergence of dead skin on the feet.
If you are troubled by this foot problem then with the help of these tips you can get rid of it.
Use lukewarm water and rock salt
This can be a great way to get rid of the dead skin of the feet, because rock salt contains a good amount of magnesium and sulfate. At the same time, feet can be soft with lukewarm water.
For this, fill lukewarm water in a tub and add four tablespoons of rock salt to it, then immerse your feet in this water for 15-20 minutes.
If you want, you can also get some honey in this water.
Exfoliate your feet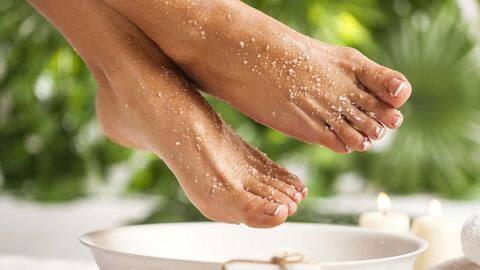 Exfoliation is a process that cleans the cells of the upper layer of the skin and brings out a healthy skin from inside.
Exfoliation may prove to be a better option in getting rid of dead skin.
To exfoliate your feet, make a foot scrub with warm water, sugar and honey, then use it.
This scrub will remove dead skin, making your feet soft.
Use foot mask after exfoliation
Foot masks may be better for feet after exfoliation.
To make a foot mask, add olive oil, cocoa butter, turmeric and vitamin-E capsules in a bowl and mix well. Then apply this mixture on your feet for 20 minutes and clean it with lukewarm water.
Olive oil and cocoa butter provide moisture to the feet. At the same time, turmeric and vitamin-E capsules help to glow by detoxifying the skin.
Moisturize the feet
Moisturizing can be an effective way to keep the feet hydrated after a foot mask.
Do apply thick lotion on your feet before bed. If you do not have lotion, you can use petroleum jelly or natural oil such as coconut and almond oil.
These things can help your feet to a great extent by moisturizing them.