Protesting agricultural laws, farmers' march is moving towards Delhi.
Farmers are constantly moving forward, in front of police sticks, barricades, water canons and tear gas bullets.
In view of this, security has been tightened on the Haryana-Delhi border. Barricading and barbed wire have been installed on the roads.
In the meantime, there have been indications of talks with the farmers on behalf of the government.
Farmers spent the night on the highway
The farmers, who had gone since morning the previous day, spent their night on the highway in Haryana.
A large group of farmers from Haryana are camping at the Panipat toll plaza on the Delhi-Chandigarh highway, 65 km from the Delhi border.
On the same highway, a group of farmers of Punjab have stopped in Karnal, about 100 km from the Delhi border.
Another group of farmers have reached Bahadurgarh on the Sirsa-Delhi highway.
Security arrangement on Haryana-Delhi border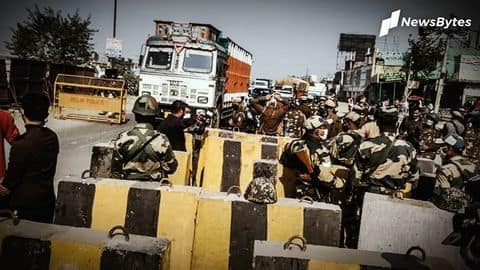 Farmers in Punjab and Haryana are trying to reach Delhi through different routes.
These farmers are reaching Delhi by riding in tractor-trolleys, buses and trucks. Farmers are taking with them ration, winter blankets and tents etc.
In view of this, an alert has been issued in Delhi and Haryana. Along with the police, paramilitary forces have also been deployed along the Haryana-Delhi border.
The government gave the indication of talks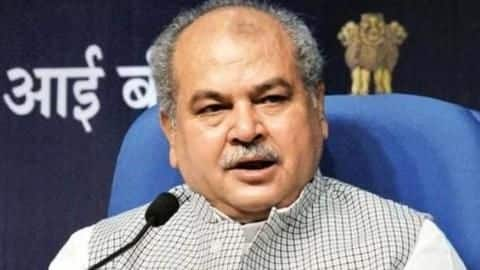 On Thursday afternoon, there were many such reports in which the government negotiated with the farmers and indicated to resolve the disputes.
Agriculture Minister Narendra Singh Tomar said, "I appeal to our farmers not to protest. I hope that our talks will lead to positive results."
In the evening, Defense Minister Rajnath Singh said, "I appeal to him to finish the demonstration and invite him for talks."
Farmers reach near Singhu border of Haryana-Delhi
BBC As per, a group of farmers have crossed the Singhu border (Haryana-Delhi border). Police have fired tear gas shells at the farmers to send them back from here.
Heavy barricading has been done here, but farmers have made way out of them in many places.
The United Kisan Morcha and the Kisan Sangharsh Coordination Committee have said that by Friday evening, about 50,000 farmers will be on the Delhi border.
Tear gas shells fired at singhu border
#WATCH Police use tear gas shells to disperse protesting farmers at Singhu border (Haryana-Delhi border).

Farmers are headed to Delhi as part of their protest march against Center's Farm laws. pic.twitter.com/Z0yzjX85J5

– ANI (@ANI) November 27, 2020
Farmers of Uttar Pradesh will also stop the way
The farmers of Haryana and Punjab will also be supported by the farmers of Uttar Pradesh today.
Bharatiya Kisan Union leader Rakesh Tikait has said that the farmers of Uttar Pradesh will take to the streets on Friday and jam all the highways of the state.
He said that farmers along with their tractors should also bring food and drink on the highway. He said that he is with the farmers across the country in protest against the agricultural laws.
Haryana government made tough arrangements to stop farmers
To prevent these farmers coming from Punjab, Haryana has sealed its entire border adjoining Punjab. Apart from this, buses coming to and from Punjab have also been stopped for two days.
Section 144 has also been imposed in many areas of the state and many farmers have been taken into custody.
Tight security arrangements have also been made in Gurugram and Faridabad adjoining Delhi.
What is the issue related to agricultural laws?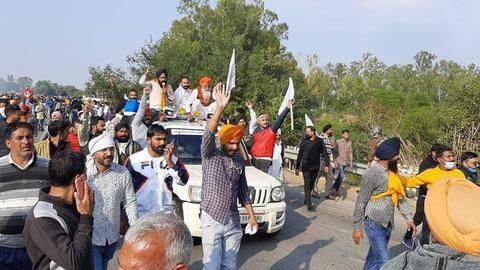 In fact, the Modi government has brought three laws to improve the agricultural sector, including making provisions for procurement outside the government mandis, approving contract farming and ending the stock limits of many grains and pulses.
Farmers of many states including Punjab and Haryana are strongly opposing these laws. He says that through these the government wants to get rid of mandis and the minimum support price (MSP).
Farmers march towards Delhi
Haryana: Farmers are moving from Panipat to Delhi in protest of agricultural laws. A farmer protester said, "We will reach Delhi under any circumstances. We have brought a ration of 6 months." #FarmLaws pic.twitter.com/JbePgyF8aI

– ANI_HindiNews (@AHindinews) November 27, 2020