During the cricket world cup last year Ravindra Jadeja But since the comment made, Sanjay Manjrekar was badly trapped.
He was even dropped from the commentary panel of the Board of Control for Cricket in India (BCCI).
Now Manjrekar is commentating in the Australia vs India series and once again he has given a statement on Jadeja.
He has said that he does not want to see cricketers like Jadeja in ODIs.
There is a problem with cricketers like Jadeja in white ball cricket- Manjrekar
The hindu During the conversation with Manjrekar said that if you have specialists who are expert in one thing, then you should fill your team with those players.
He added, "I have no problem with Jadeja but I have problems with players like him in white ball cricket. Even Hardik Pandya will not be in my team. Certainly I always rated Jadeja in Test cricket Is given. "
Jadeja's performance has been like this in both the first ODIs
Jadeja plays as an all-rounder rather than a specialist in any field.
In the first ODI against Australia, he gave 63 runs in 10 overs and scored 25 runs in 37 balls at bat.
In the second ODI too, he gave 60 runs in 10 overs and scored 24 runs in 11 balls.
Jadeja could not take a single wicket in both matches, while in batting he could not play a big innings.
Manjrekar told Jadeja that the player who performed in pieces
Manjrekar wrote on Twitter during the 2019 Cricket World Cup that Jadeja is a performing player in pieces.
In his tweet, Manjrekar wrote, "Jadeja is a crumpling player who bowls a bit and batsmen a bit and I would not like to give him a place in my team."
After this tweet, Manjrekar had a lot of trouble on Twitter and people took him in stride.
Jadeja's contribution in ODIs has been very low with the bat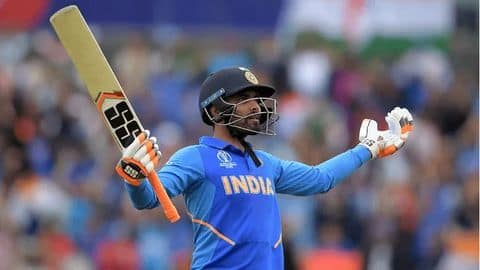 Seeing Jadeja's ODI career, his contribution with the bat has not been as much with the ball.
Jadeja, who has played 167 ODIs, has also failed to score 2,500 runs and has 12 half-centuries to his name.
On the other hand, in terms of bowling, he has taken 187 ODI wickets. This performance as an all-rounder is right, but the specialist player would have done better in one area.