Madhya Pradesh The government has taken a major step to strengthen the rural economy and protect the cows.
The government has decided to create a 'cow cabinet' for the protection of cows in the state. Chief Minister Shivraj Singh Chauhan Has also announced this on Wednesday.
Seven state departments will be included in this cabinet. The first meeting of this cabinet will be held at Gopashtami i.e. 22 November at 12 noon at Gau Sanctuary in Agar Malwa.
Chief Minister Shivraj Singh tweeted, information about the formation of 'Gau Cabinet'
Chief Minister Shivraj Singh, tweeting on Wednesday morning, informed about the formation of 'Gau Cabinet' in the state.
He tweeted, 'It has been decided to set up a' cabinet 'for cow protection and promotion in the state. Animal Husbandry, Forest, Panchayat and Rural Development, Revenue, Home and Farmers Welfare Department will be included in the Cow Cabinet. The first meeting will be held on November 22 at 12 noon on Gopashtami at Gau Sanctuary, Agar Malwa. '
Which responsibility will be entrusted to the conservation of cows?
All the departments included in the 'Gau Cabinet' will decide collectively for the protection of cows. The Department of Animal Husbandry looks after the breeding of cows and cows.
Along with this, the Forest Department will also work for the conservation of cows. Similarly, Home Department will do the work of defense.
After the announcement of the government, all departments have made preparations for the first cabinet meeting. It is expected that in the first meeting, the government can take some major decisions.
The first cow sanctuary in the country has been built in Madhya Pradesh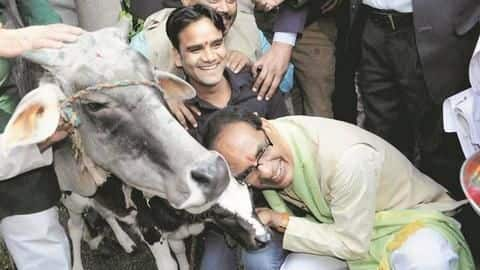 Shivraj Singh government in Madhya Pradesh created the first cow sanctuary in the country in 2017. This sanctuary at Agar Malwa is named Kamadhenu Gau Sanctuary.
It has been built by the Cow Promotion Board of Madhya Pradesh at a cost of Rs 32 crores. The capital Bhopal is situated 190 km north-west.
The sanctuary spread over 472 hectares has been privatized due to financial crisis. The state also has district and block wise gaushalas.
Government allocated Rs 11 crore for cows
Let us tell you that 1,80,000 cows are currently being kept in cows shelters being operated by the Madhya Pradesh government. Earlier this year, the government allocated Rs 11 crore to feed these cows.
Madhya Pradesh government also enacted a law against 'Love Jihad'
Madhya Pradesh has earlier announced a law against 'Love Jihad'. A few days ago, state Home Minister Narottam Mishra announced to bring a law against Love Jihad in the upcoming assembly session.
The minister had said that it would be a non-bailable offense and under this law there would be a provision of punishment of up to five years for the culprits. Earlier, the Uttar Pradesh government has also talked about enacting a law on this issue.