Over a period of time, many celebrities in Bollywood have revealed various incidents that happened to them. Now actress Mandana Karimi has also accused the film of mental harrassment with her on the sets.
She says that for the past few days she was shooting for her upcoming film 'Coca Cola'. It was the last day of their shoot, a day before Diwali. Then producer Mahendra Dhariwal allegedly misbehaved with him.
Producer Mahendra-Mandana is an old-minded person
TOI According to Mandana, "I am still surprised what happened to me. We were working on the film 'Coca Cola' for more than a year."
He said, "Producer Mahendra Dhariwal is old-fashioned. He was running the set with maleist thinking. Sometimes a man's ego is also worked on the set and it is not new. But what happened on November 13 he Shook me. "
The producer asked for an hour to stay – Mandana
Mandana continued, "It was the last day of the shoot and I wanted to wrap up all the work because I had to meet someone else too. In the last two days of the shoot I had arrived early while the whole shoot was not only related to me."
The actress said, "Before the shoot was over, the producer asked me to stay for an hour which I couldn't do. We were shooting the song."
Mandana accuses producers of forcibly entering vanity van
Mandana says, "As soon as I went to my vanity van to change, the producers forcefully came in and shouted at me that I would have to stay for an hour while there were no directors or assistants present on the set."
He added, "At that time the choreographer took out the producer, but when I started leaving, the producer's son stopped my car. Even then I was able to return from the choreographer's car."
Producer Mahendra gave clarification on the matter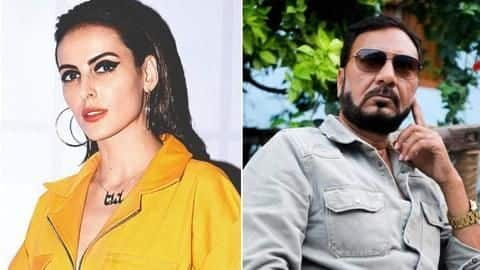 Now on this whole issue, producer Mahendra said in his clarification, "We were working with Sunny Leone and Mandana before Corona. Mandana was paid Rs seven lakh for this film. The shooting had to be stopped due to the lockdown. But She started making excuses when the shooting resumed. "
The producer said, "Mandana also asked for two lakh rupees separately for the Delhi shoot."
Producers accused of being unprofessional
Mahendra said, "After the lockdown, Mandana refused to give dates. I gave Advana money in advance, but on the last day of shooting she started leaving two hours earlier. I knocked her into the vanity van to stop them."
He said, "Then some more scenes were yet to be shot. When I went to talk to her, she started making my video."
Mahendra said that Mandana has taken Rs 17 lakh from him. This was very unpropitious behavior.
Mandana is seen in Big Boss
It is worth mentioning that Mandana started her acting career in Bollywood with Ranbir Kapoor's film 'Roy' released in 2015. After this, she has also appeared in 'Bhaag Johnny', 'Main Aur Charles' and 'Kya Kool Hai Hum 3'.
However, Mandana gained popularity from the controversial reality show 'Bigg Boss 9'. He had come a long way in the show, though he could not win.