Capital due to the demonstration of farmers Delhi Most of the borders have been closed. Due to this, many roads are jammed.
It is taking a long time for people to reach their destination. In many places, police have barricaded the protesters to stop them.
In view of this, the Delhi Traffic Police has appealed people to use alternative routes to the destination.
Come, let us know the whole news.
Shouting border closed towards Noida
The Delhi Police tweeted on Thursday morning that due to farmer protests the shout border is closed at the Noida link near Gautam Buddha Gate. Those going from Delhi to Noida have been advised to use NH-24 and Delhi-Noida Direct Flyway.
Many borders closed towards Haryana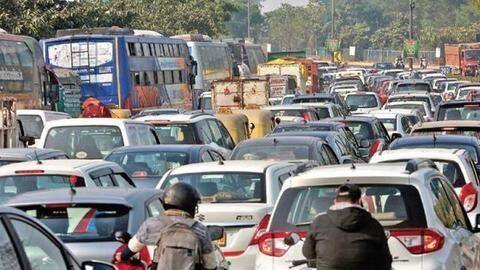 At the same time, many borders of Delhi are also closed towards Haryana. Traffic police said that the Tikri, Jharoda and Jhatikada borders are closed due to the protests.
Apart from these, the Singhu border is closed for the last several days. Here Punjab And protesters coming from Haryana Farmer Are stuck.
Those coming to Delhi from Haryana can come from Dhansa, Daurala, Kapashera, Rajokri, NH-8, Bijwasan, Palam Vihar and Dundahera border.
However, there is heavy traffic on these routes.
Singhu border is closed from both sides
Police said that the Singhu border is closed on both sides. Apart from this, the routes coming to Delhi from Lampur, Auchandi and other small borders are also closed. Traffic is being diverted from Mukarba Chowk and GTK Road.
Farmers arrived for the fourth round of talks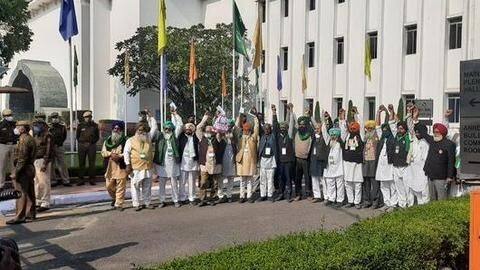 On the other hand, the fourth round of talks between the government and the farmers will be held at Vigyan Bhawan today.
Farmers have reached Vigyan Bhawan for this and this conversation can begin at any time.
Earlier, on 1 December, the leaders of farmers' organizations and senior ministers of the government had held talks, but there was no consensus in it.
Before today's meeting, the Minister of Agriculture expressed the hope that the talks would be positive.
The farmers warned the government before the meeting
Prior to the meeting, Pratibha Shinde of Lok Sangharsh Morcha had said that the government has the last chance to repeal the laws. After this the movement will be big and will cause the government to fall.
Dr. Darshan Pal, President of the Revolutionary Farmers Union, has called for a special session of Parliament to repeal the laws, and if not, to perform in the whole country on December 5. Warning Has given
What is the whole matter of agricultural laws?
The Modi government has brought three laws to improve the agriculture sector, including making provisions for procurement outside the government mandis, approving contract farming and ending the storage limit for many grains and pulses.
Farmers of many states including Punjab and Haryana are strongly opposing these laws. He says that through these the government wants to get rid of mandis and the minimum support price (MSP).