Mahashay Dharampal Gulati, the owner of the country's spice company Mahasia Di Hatti (MDH), died on Thursday at the age of 98.
After recovering from Corona infection last day, his health was not doing well. He was undergoing treatment at Mata Chandan Devi Hospital in Delhi, but he died of heart attack around 6 am.
The news of his demise triggered a wave of mourning throughout the business and industry.
Delhi Deputy Chief Minister Manish Sisodia tweeted information
Deputy Chief Minister of Delhi Manish Sisodia Tweeted his morning and informed about his death.
He tweeted, 'The country's leading inspirational industrialist and owner of MDH Group, Mahashay Dharampal Gulati has passed away this morning. He had not seen an inspiring and holy spirit like her. May his soul rest in peace. '
Let us know that Dharampal Gulati had brought the company to high levels on his own hard work and effort.
Defense Minister Rajnath Singh also expressed grief over his death
Defense Minister Rajnath Singh expressed his condolences on Gulati's death.
Singh said in one of his tweets, 'I am saddened by the passing away of one of India's most respected businessmen, Mahasri Dharmapalji. He made a mark despite starting from a small business. He was quite active in social work and remained active till the last moment. I express my condolences to his family. '
Chief Minister Arvind Kejriwal expressed grief over his death
Chief Minister of Delhi Arvind Kejriwal has also mourned the death of Mahasri Dharmapala Gulati. He wrote in the tweet, 'Dharampal ji was a very inspiring personality. He devoted his life to society. may his soul rest in peace.'
Gulati's family came to India from Pakistan at the time of Partition
Mahashay Dharampal Gulati was born on 27 March 1923 in Sialkot, Pakistan. He was only studying till the fifth grade. The company was started by his father in a small shop.
However, during the partition of the country in 1947, his family shifted to Delhi. After reaching Delhi, Dharmapala bought a Tanga (horse cart) for Rs 650. In which he carried passengers between Connaught Place and Karol Bagh.
Spice shop opened by selling Tanga
In 1953, Dharmapala sold a tanga and opened a spice shop on Ajmal Khan Road under the name of 'Sialkot Degi Mirch Wali Mahashi Di Hatti'. Subsequently in 1959 the company was officially established as MDH.
The spice business gradually expanded from this shop to such an extent that today they have 18 spice factories in India and Dubai. MDH spices prepared in these factories reach worldwide. The company has a total of 62 products.
'Dadaji' becomes highest paid CEO in FMCG sector in 2016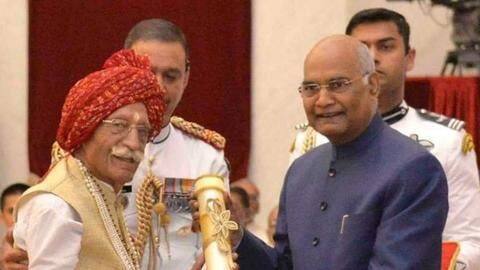 Also known as Dadaji and Mahashaji, Gulati became the highest-paid Chief Executive Officer (CEO) in the FMCG sector in FY 2016 with a salary of Rs 21 crore.
At that time, his salary was more than Adi Godrej and Vivek Gambhir of Godrej Consumer, Sanjeev Mehta of Hindustan Unilever and YC Deveshwar of ITC. According to a 2017 ET report, he had an 80 percent stake in his own company.
Honored with Padmavibhushan
Trade and Industry: Last year, President Ram Nath Kovind conferred the Padma Vibhushan, the country's biggest honor, on the last year by President Ram Nath Kovind for his outstanding contribution in the field of food processing. This was a major achievement of his life.
Used to advertise the company's spices
Please tell that Dharampal Gulati used to advertise his products on his own. Often you have seen him tell about his spices on TV.
He was considered the oldest advertising star in the world. Not only this, he has also done many such things with business, which proved to be very helpful for the society.
This includes construction of hospitals, schools etc. He has opened more than 20 schools so far.