Four in the encounter in Nagrota on Thursday Terrorist killed Were. Investigation after the encounter has revealed that the four terrorists killed walked for about 30 km in the dark night.
They were sent to India by training like commandos. These terrorists were looking for a major attack on the anniversary of 26/11 Mumbai terror attack.
Before he could succeed in his plans, the security forces piled him on.
There was an infiltration in India a day before the encounter
At around 5 am on Thursday morning, four militants were killed by security forces in an encounter on the Ban Toll Plaza near Nagrota on the Jammu-Srinagar highway. Large quantities of arms and ammunition were recovered from them.
Police officers of all terrorists Jaish-e-Mohammed Was said to be associated with and they entered India on Wednesday evening after infiltrating Samba sector.
After the encounter Prime Minister Modi has High level meeting Had called
Pick-up point was 30 km away from terrorist camp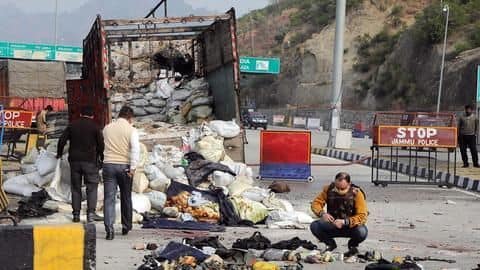 Hindustan Times But according to the report, wireless sets, GPS and receivers recovered from the slain terrorists revealed that they walked 30 km from Jaish's hideout in Shakargarh and reached Jatwal via Samba border. After reaching here, he boarded the truck and left for the front.
All these terrorists were trained like commandos and were sent to India with weapons.
Infiltration
A security official told that the distance from Jatwal to the Shakargarh camp of Jaish is about 30 kilometers. These terrorists may have entered the border through Mawa village in Samba sector.
He told that there are many rough routes near Nonath Nala, which come from the international border towards Jatwal. This stream further merges into Ben Nala. Terrorists must have taken at least 2.5-3 hours to cover this distance.
Terrorists boarded the truck between 2-3 pm
According to the report, such evidence has been found that the four terrorists boarded the truck between 2:30 pm and 3 pm. The truck passed the Saror toll plaza at 3:44 minutes.
After this the truck was heading towards Kashmir via Narwal bypass, when the security forces stopped it near Ban Plaza.
Officials said the slain terrorists were Fidayeen attackers and had a range of weapons.
The role of Qasim Jan came out
It is being told that Jaish commander Rauf Asghar was supervising the entire conspiracy, then Kasim Jan had made the terrorists infiltrate into India. Qasim is the main accused in the 2016 Pathankot airbase attack.