A man wearing nothing but a coat stormed a Waffle House restaurant in Tennessee before dawn on Sunday and shot four people to death, according to police, who credited a customer with saving lives by wresting a weapon away from the gunman.
The Metropolitan Nashville Police Department said via its Twitter account that authorities were searching for 29-year-old Travis Reinking of Morton, Illinois. Police said he was named as a person of interest because the pickup truck that the gunman used to drive to the restaurant was registered to him.
Police spokesman Don Aaron said three people died at the scene and one person died at Vanderbilt University Medical Center.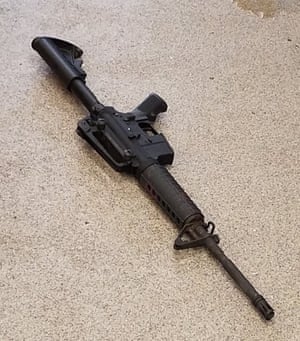 Two other people were being treated there for gunshot wounds. Medical Center spokeswoman Jennifer Wetzel said one was in critical condition and the other was in critical but stable condition.
Aaron said the gunman arrived at the restaurant, sat in the parking lot for four minutes and shot two people with an assault rifle. The gunman then went inside and continued firing. A 29-year-old male patron inside the restaurant grabbed the rifle from the suspect and tossed it over a counter, Aaron said.
"No doubt he saved many lives by wrestling the gun away and tossing it over the counter and prompting the man to leave," Aaron said. He called the patron a "hero".
Aaron said Reinking was known to law enforcement in Illinois and in the federal system.
The victims' names were not immediately released.
The suspect, wearing only a green jacket, shed the jacket after fleeing the restaurant. Aaron said he lived at an apartment complex in the area and, based on witness reports, went to the complex and put on a pair of pants.
Aaron said witnesses saw a man in a nearby wooded area, and police were still tracking the man, more than six hours after the 3.25am shooting.
Nashville mayor David Briley said the shooting represents "a tragic day" for the city.
"My heart goes out to the families and friends of every person who was killed or wounded in this morning's shooting. I know all of their lives will be forever changed by this devastating crime," Briley said on Twitter.
Nashville Waffle House shooting leaves four dead and customer hailed as hero https://t.co/SmmEpewfgc

— Guardian news (@guardiannews) April 22, 2018