Indian-origin Dr Gaurav Sharma (33), who won the MP election from Hamilton West region of New Zealand, created new history on Wednesday.
Actually, Dr. Gaurav from New Zealand Parliament I have kept Indian culture and qualities in front of the world by taking an oath in Sanskrit language.
He is the first MP and second politician in the world to take oath in Sanskrit in foreign Parliament. With this, Gaurav has now become the center of discussion all over the world.
High Commissioner of India tweeted information in New Zealand
In case of Dr. Gaurav taking oath in Sanskrit India The High Commissioner of Muktesh Pardeshi tweeted and put it in front of the world.
He tweeted, 'Dr. Gaurav Sharma, expressing deep respect for the cultural traditions of India and New Zealand, was first sworn in Maori, the New Zealand language of Parliament, and then in the Sanskrit language of India.'
This tweet is now going viral.
Watch the video of the oath here
Kiwi-Indian Labor Party MP @gmsharmanz is the second Indian-origin leader (outside India) to take oath in Sanskrit.
The first was Suriname President Chandrikapersad Santokhi who took oath of office in July this year. @WIONews @sidhant pic.twitter.com/yhfzvBZFHS

– Palki Sharma (@palkisu) November 25, 2020
For the first time, the President of Suriname took the oath in Sanskrit
Explain that the first Sanskrit oath was taken by the President of Suriname Chandrikaprasad "Chan" Santokhi on foreign lands. He took the oath of office in the Sanskrit language on 16 July last. After him, Dr. Gaurav has now taken this unique step.
Gaurav had won by 4,386 votes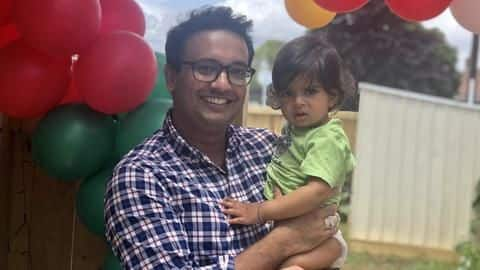 Wynn According to Dr. Gaurav won the election of Member of Parliament on October 17 as a Labor Party candidate.
He won this election by defeating Tim McKindow of the National Party by over 4,386 votes. This was his second attempt. Earlier, he contested in the year 2017.
He has been associated with the Labor Party for a long time and is always ready to help people.
Dr. Gaurav is from Hamirpur in Himachal Pradesh
Let us tell you that Dr. Gaurav Sharma, who was elected MP from Hamilton West of New Zealand, was originally Himachal Pradesh K Hamirpur district is from Hadeta village.
He did an MBBS from Auckland and an MBA from Washington. He works as a General Practitioner in Naughton, Hamilton.
He has worked in the fields of public health and policy formulation in New Zealand, Spain, USA, Nepal, Vietnam, Mongolia, Switzerland and India.
On Twitter, the user asked – Why did not take oath in Hindi?
On Twitter, a user asked Dr. Gaurav why he did not take oath in Hindi. To this, he said that not everyone can be happy, so he thought it appropriate to take an oath in Sanskrit.
He tweeted, 'To be honest, I had considered it, but a question arose about taking oath in Pahari or Punjabi, my first language. It is hard to keep everyone happy. All languages ​​are respected by Sanskrit. '
Sanskrit is the sacred language of Hinduism
Explain that Sanskrit is the sacred language of Hinduism, as well as the language of classical Hindu philosophy and the historical texts of Buddhism and Jainism.
Sanskrit is a classical language of South Asia which belongs to the Indo-Aryan branch of Indo-European languages.
It originated in South Asia when its predecessor languages ​​spread from the northwest to the Bronze Age. Many famous and religious texts have been written in this language in India.