French Champion Paris Saint Germain (PSG) Leonel Messi Is in the process of signing in summer 2021.
Messi, who has entered the final year of his contract in Barcelona, ​​can speak with another club only in January.
In summer, a club can sign Messi for free and PSG is trying to sign the legend.
Let's know the whole news.
Neymar and Sporting Director are keen to bring Messi
ESPN According to a report by the sources, sources said that Neymar, who has a close relationship with Messi, wants Messi to play with him.
PSG's sporting director Leonardo also expressed his desire to sign Messi and has been expressing his desire ever since.
The team that travels to the final of the 2019-20 Champions League has the power to bring Messi.
Manchester City also wants to sign Messi
In August, Messi expressed his desire to leave Barcelona and Manchester City was the frontrunner to sign him.
However, the club somehow managed to stop Messi.
Reports came last month that Messi could talk to the club on his way to the city in Summer.
However, City boss Pep Guardiola wants Messi to finish his career in Barcelona.
City can sign pre-contract with Messi in January
According to a report by Mirror, Citi had made plans for its transfer plan only after Guardiola's contract went ahead.
No one knows if City will pay fees to sign Messi in January or wait for summer to sign him for free.
It is also possible that they sign a pre-contract in January.
Neymar wants to play with Messi again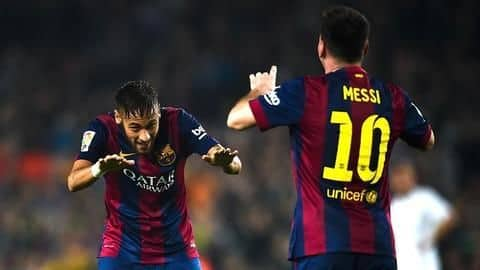 Following PSG's win against Manchester United in the Champions League, Neymar said he wanted to play with Messi.
He had said, "I want to play with Messi again. I want to enjoy him on the pitch again. Definitely I want to play with him next year. We have to do it next season."
His salary would be the biggest obstacle in the middle of signing Messi.