In the last three Tests of the Test series on Australia tour Indian Cricket Team Captain Virat Kohli not part Will take
Kohli, who will become a father in January, will return to India after playing the first Test.
Rohit Sharma He has been rested in the limited overs series, but he is part of the team in the Test series.
Former Australian great fast bowler Glenn McGrath believes that Kohli's absence is a big opportunity for Rohit.
Rohit can come forward after Virat's arrival- McGrath
According to India Today, McGrath said that Rohit Sharma is a great batsman, but according to him, he has not been able to achieve what he should in Test.
He added, "Maybe Rohit comes forward when Virat goes home. You can't focus on just one player. When Virat comes, the other batsmen will have a chance to come forward and make their mark in the Test series." "
Kohli is the second highest Test run Indian in Australia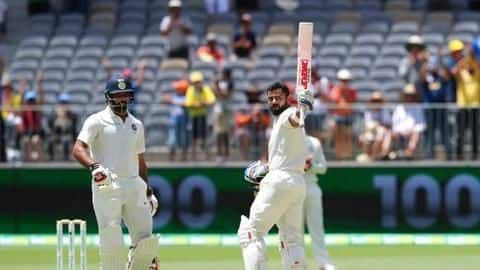 Virat Kohli has made his bat shine in every corner of the world and Australia is also one of them.
Kohli has scored 1,274 runs in 12 Tests played in Australia at an average of over 55. He has scored six centuries and three half-centuries in Australia.
He is the second highest Test batsman in Australia after Sachin Tendulkar (1,809).
Rohit's bat has played more in ODIs than Test in Australia
Rohit has played only five Tests in Australia so far, scoring 279 runs at an average of 31. In Australia, Rohit has scored two half-centuries.
However, Rohit is the highest run-scorer in Australia in ODIs.
Rohit has scored 990 runs in 19 ODIs in Australia and has also scored the most four centuries.
He has also played the biggest (171 *) ODI innings of any Indian in Australia.
ODI series will start from November 27
The Indian team has started practice by reaching Sydney and the ODI series between the two teams will start from 27 November.
After the three-match ODI series, the three-match T20 series will also be played.
Rohit will not be part of the team in both these series, but Kohli will lead the team in both.
The four-match Test series will begin on December 17, with the first Test being Day-Night.