The German aerospace center DLR is currently working on a hydrogen-powered vehicle, which will be made available as a car in the future.
This low cost small electric vehicle is powered by hydrogen and also weighs very little.
The vehicle being manufactured by DLR is named Safe Light Regional Vehicle (SLRV). Sandwich construction has been used to make it.
Let us know about it in detail.
Why is sandwich construction used?
Using sandwich construction provides a high degree of safety to the vehicle and protects passengers at the time of an accident.
Along with this, the weight of sandwich construction is very less. For this reason, the fuel efficiency of the vehicle is good by using it. This means that it reduces fuel consumption.
The SLRV will be provided with a seating area of ​​two, that is, two seats are placed in its cabin.
The length of this vehicle will be about 4 meters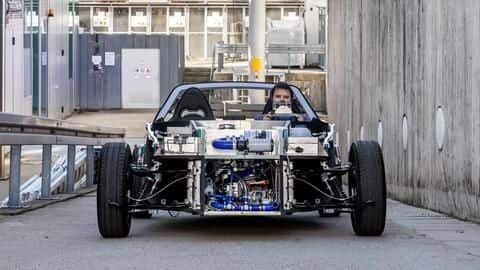 The length of the SLRV is 3.8 meters. It is a light and safe vehicle.
The material used to make it has an upper layer of metal, inside which is filled with plastic foam.
The front and rear of the SLRV are made of sandwich panels. The passenger cell has a tub of ring structure.
It absorbs the force applied to the vehicle during driving and protects the passengers at the time of the accident.
How much is the top speed?
Researchers at DLR have installed an 8.5 kW battery, which gives an additional power of 25 kW. The weight of this battery is less than the battery system in ordinary vehicles.
Talking about the range, its range is 400 kilometers. At the same time, its top speed is 135 kilometers per hour.
A 39-liter pressure tank is provided between the two seats, which can hold 1.6 kg of hydrogen.
What will be the price?
Its full weight is 450 kg. It has been given a sporty look, due to which it looks quite attractive.
Hindustan Times According to the company, the SLRV is the right vehicle as a local public transport or car sharing vehicle as a commuter car.
Right now its price is expected to be around 13.25 lakh rupees. However, the price may change later.