The Kerala Cricket Association (KCA) has decided to organize T20 competition on the lines of other states.
Cricket is set to return to the state with this tournament, which is scheduled to be played as President Cup.
As of now, the state government is yet to get permission for the tournament, but with this tournament S. Sreesanth Will return to the field.
The tournament has become a topic of discussion due to the return of Sreesanth.
Sreesanth-KCA president will be the highlight of the tournament
Vargheshe of KCA President Sajan told Sportstar that Sreesanth would definitely be the highlight of the tournament.
He added, "All the players will stay inside the bio-bubble in a hotel in Alappuzha. We are trying to start it from the first week of December. The main thing is for us to get the permission of the Kerala government. Other T20 leagues Dream XI is also there for our tournament. "
Sreesanth is constantly training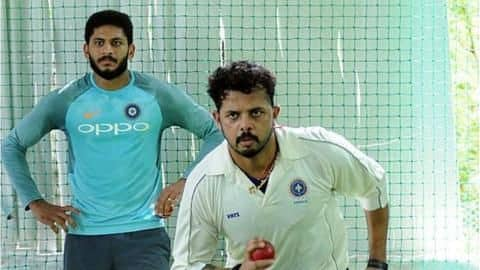 Since June, Sreesanth has been training with Kerala Under-23s and some senior players.
He is bowling two hours red ball and one hour white ball and throwing 12 overs a day.
Sreesanth said in May that he would return to the Indian team Test championship Want to play
In June itself, he said that even where he was out of (IPL) Make a comeback Would like
Sreesanth was freed from life ban last year
in 2013 Indian Premier League (IPL) Three players were banned for life in spot-fixing, including Sreesanth.
Sreesanth was accused of taking money from the bookies and his handkerchief indicated to him.
Sreesanth was relieved in August last year for knocking on the door of the court when Justice DK Jain reduced his ban to seven years.
Cricket will return to the country from November 24
Cricket Association of Bengal (CAB) is going to organize T20 Challenge from 24 November to 10 December with which cricket will return to the country.
Six CAB clubs will participate in this tournament, with 33 matches to be played. A bio-securitized atmosphere has been created for the tournament.
Most matches of the tournament can be played at night in the Garden of Eden. Players like Manoj Tiwari, Srivats Goswami and Shahbaz Ahmed will be seen playing.