Capital Delhi Thousands of new cases are coming up every day. In view of this, the Kejriwal government has taken a big decision.
Schools have started opening in many states, while the Delhi government Corona virus Has decided not to open schools till the introduction of effective vaccine.
Health Minister of Delhi Satyendra jain Has announced this during a press conference on Thursday.
No plans to open schools right now- Jain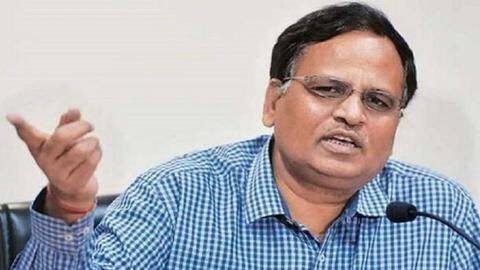 Health Minister Satyendar Jain said, "There are no plans to reopen schools in Delhi at the moment. The corona virus vaccine is coming soon. Until we are fully in a position to control the corona infection, The schools will not be opened until then. "
He further said that many other services will be smooth once the infection is under control. Number of schools will be late.
The education minister also said not to open the school till the vaccine comes
Please tell that before the Health Minister, Education Minister Manish Sisodia, till the arrival of the vaccine school No opening statement was given.
He said on Tuesday, "Unless we get a vaccine against the virus, the school is unlikely to open."
On October 30, he announced that the parent was not in favor of opening schools yet. In such a situation, all schools will remain closed until further orders.
Efforts are being made to increase the number of RT-PCR tests- Jain
Health Minister Jain said that after a meeting with Union Home Minister Amit Shah ten days ago, the government is working on increasing the number of testing and RT-PCR tests. Currently 61,000 tests are being done daily in Delhi.
He said that Delhi's labs have the capacity to perform 35,000 RT-PCR tests every day and so many samples are being taken daily. Efforts are being made to increase it further.
Advice is sought from experts to prevent deaths- Jain
On the question of the deaths of more than 100 people per day in Delhi for the last 10 days, the Health Minister said that the experts have been sought to prevent deaths. The government has asked the experts that the number of deaths in the state can be reduced by implementing such measures. His advice will also be acted upon.
He said that the government has also increased 843 ICU beds for better treatment.
This is the condition of corona infection in Delhi
Last day 6,224 new cases were reported in Delhi and 99 patients died. With this, the total number of infected people in the city has gone up to 5,45,787, while 8,720 patients have died. The test positivity rate reached 8.49 percent.
Similarly, the positive rate of corona infection in Delhi is running at 8.5 percent. On 15 November last, the rate had reached 15.3 percent. It has decreased since then.