Tamil Nadu left-arm fast bowler T Natarajan got a chance to make his ODI debut for India on Wednesday.
For 28-year-old Natarajan, the journey of cricket has been very difficult and he has made his dream come true by making a debut against Australia.
Let's know how Natarajan, who plays cricket with tennis ball, has made her debut for India by defeating poverty.
Father was a daily wage laborer, mother ran a chicken shop in the village
Natarajan's father works on a daily basis and his mother runs a chicken shop in Chinnapampatti village in Tamil Nadu.
Due to financial constraints, Natarajan had to struggle a lot to make this game her career.
Significantly, till the age of 19, Natarajan played cricket only with tennis ball and he did not even touch the cricket ball.
JP Nattu identified Natarajan's talent
Natarajan bowled well with tennis ball and his talent was tested by JP Nattu.
Nattu brought him with him to Chennai and provided him a chance to play in the Chennai League.
Shortly after, Natarajan started battling bowling action and had to be away from cricket for some time.
However, after his return, he started to make a different identity by bowling awesome in Death Overs.
Natarajan impresses IPL scouts in 2016
Natarajan used his long experience of tennis ball to start impressing him constantly in Death Overs.
Natarajan performed well in the first edition of Tamil Nadu Premier League (TNPL) in 2016.
TNPL's good performance was very beneficial for them and they Indian Premier League (IPL) scouts were also impressed.
In 2017, Kings XI Punjab bought him for a price of three crores.
Academy is built to help the children of the village
After receiving the first contract of IPL, Natarajan spent his money on things of need.
He also arranged for his sisters to study, besides building a house for their parents.
Natarajan has also built an academy in his village so that the new players do not have to face the facilities that Natarajan had to face.
Natarajan has also been a constant help to the players playing together.
Natarajan looked completely changed in IPL 2020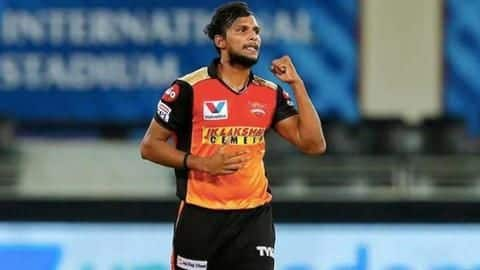 In the first season of the IPL, Natarajan had taken only two wickets in six matches, giving away an economy of nine.
He was bought by Sunrisers Hyderabad in 2018, but got a chance to play the first match for the team in the IPL 2020.
This season he took 16 wickets in 16 matches and continued to impress at the Death Overs.
He has got an opportunity to join the Indian team on the basis of IPL performance.