Jammu and Kashmir Terrorist activities are not taking the name of freezing. The security forces had recently foiled the plot of Jaish-e-Mohammed's four major attack near Nagrota.
On Thursday, the militants attacked a convoy of security forces in HMT area of ​​Srinagar.
Two soldiers were martyred in this. After the incident, the terrorists fled. The army has started a search operation by sealing the area.
Terrorists ambushed soldiers
The dune According to the Army Quick Response Team (QRT) was patrolling the outskirts of Srinagar on Thursday afternoon. During this time, as soon as the team reached Aban Shah HMT Chowk, the terrorists already ambushed in the car attacked the team.
This sudden attack did not allow the army personnel to recover and two soldiers were seriously injured. After this, the terrorists escaped while firing.
Soldiers died in hospital
Inspector General of Police (IG) Kashmir Range Vijay Kumar said that after the attack, other soldiers sent the injured soldiers to the army hospital. His immediate treatment was started there, but both died due to excessive bleeding. Both the soldiers were from the Army's Kilo Battalion.
They have feared the Jaish-e-Mohammed terrorists behind this attack. Two of these terrorists belong to outside the country.
Search operation started after siege of area
IG said that there were reports of three terrorists in the car. Two fired at the soldiers, while the third was driving the car. In such a situation, the entire area is sealed and sealed.
Similarly, movement of common people in the area has also been stopped. Now a search operation is being conducted in the entire area. Police said that there is a possibility of the terrorists hiding in the area itself.
Army killed four terrorists in Nagrota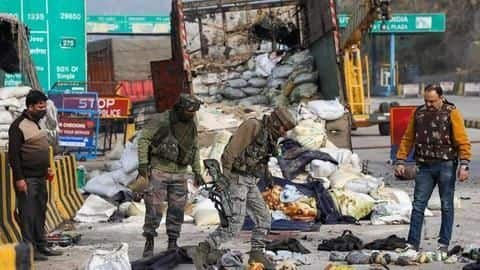 Let us tell you that on November 21, four Terrorists hiding in a truck were piled by the Ban Toll Plaza security personnel near Nagrota on the Jammu-Srinagar highway. During the investigation, the terrorists were firing on the soldiers, after which the four soldiers were killed in the encounter that started.
Police officers of all terrorists Associated with Jaish-e-Mohammed It was said to have happened and they had infiltrated the Samba sector.
The soldier was martyred in the firing of Pakistani army
On Saturday, a soldier posted at the Indian Post in Nowshera sector of Rajouri was martyred, while another jawan was severely wounded in a firing carried out by the Pakistani Army in violation of the ceasefire.
12 jawans injured in terrorist attack in Pulwama
On 18 November, terrorists also Pulwama In the Kakapora area, a troop of security forces attacked the grenade. in this 12 jawan ghalaya they were finished.
Similarly, on 13 November, the Pakistani Army carried out firing and grenade attacks in many places. Ceasefire violation did.
In this, four soldiers including a BSF sub-inspector were killed. After this, the army retaliated and killed eight Pakistani soldiers.