Demand for withdrawal of agricultural laws Punjab And Punjab Chief Minister Captain amidst demonstrations by Haryana farmers Amarinder Singh And the Chief Minister of Haryana Manohar Lal Khattar The war between the people is increasing rapidly.
On Sunday, raising concerns over the farmer movement amid the Corona epidemic, Chief Minister Khattar questioned the Punjab Chief Minister's policy and Amarinder Singh also retaliated.
Why did Amarinder Singh allow farmers to perform in Punjab – Khattar
Chief Minister Khattar on Sunday said that he did not allow farmers to protest in Haryana in view of the worsening situation of the Corona epidemic. In such a situation, he wants to ask how Punjab Chief Minister Amarinder Singh allowed farmers to perform in Punjab during this period of epidemic.
He also said that if Haryana Corona virus If a dangerous situation arises due to this, then the Punjab government will be responsible for it.
Why Haryana government stopped farmers – Amarinder Singh
Punjab Chief Minister Amarinder Singh has also reacted sharply after Chief Minister Khattar's statement.
He said that if Chief Minister Khattar is worried about the rise of Corona epidemic in Haryana due to farmers then why did he try to stop farmers in Haryana. They should have allowed the farmers to go to Delhi at the earliest.
He also said that Haryana's track record in case of epidemic is already poor.
Dispute started with Amarinder Singh expressing displeasure over the action taken on farmers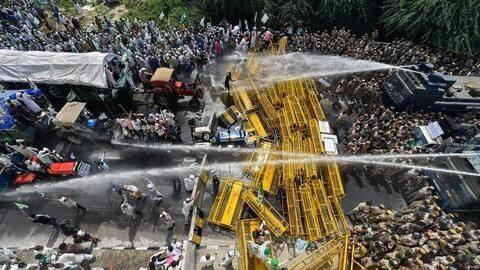 Let us know that the verbal war between the two Chief Ministers has started after the Haryana government expressed its displeasure over the use of force to stop the farmers.
He had said that the way Punjab farmers were lathi-charged with using water canons and tear gas bullets was not correct. Many farmers were injured in that. He also raised many serious questions on the action of the Haryana government.
Chief Minister Khattar gave this clarification
On expressing displeasure with Captain Amarinder Singh, Khattar had said that he has not used water cannon and tear gas bullets on farmers.
Apart from this, he also said that he tried to talk to Amarinder Singh several times, but he did not pick up the phone.
On this, Amarinder Singh said that Khattar is lying. He did not call, but if he would call, he would not talk to them.
Farmers' demonstration continues, Amit Shah's proposal turned down
Please tell that under the Delhi Chalo March, farmers of 30 farmers' organizations stayed on the Singhu border (Delhi-Haryana border) on Saturday.
After the meeting, Home Minister Amit Shah's farmers reached Burari Turned down offer to negotiate. The farmers refused to go there, calling Buradi an open prison.
Apart from this, they have decided to protest strongly at the Singhu border and encircle Delhi.
Farmers have been on the roads since many days
Explain that the farmers of many states, especially Punjab and Haryana, have been out on the Delhi march since 25 November in protest against the three agricultural laws of the central government and all efforts of the Haryana Police to stop them from reaching Delhi have failed.