Of america Electric vehicle The startup recently launched a three-wheeled electric vehicle.
This is completely different than other electric vehicles. The company claims that there is no need to charge with electricity to run it.
Actually, Aptera Motors has launched solar electric vehicle, which is charged with solar energy.
Its range is also significantly higher than other electric vehicles in the market.
Range is greater than other electric vehicles
Regarding this solar electric vehicle, the company claims that it can cover more than 1,600 kilometers after full charge, which is much higher than other electric vehicles.
Company co-founder Anthony says that with Aptera's Never Charge technology, people can drive vehicles powered by solar energy. Many solar panels provided in it keep the battery pack charged and people can go anywhere.
Supports fast charging
The company claims that the battery pack provided in it supports fast charging and this solar electric vehicle is so charged in an hour that it can cover a distance of about 800 km.
Explain that the company has used this technology in many of its models. The company's battery packs range in size from 25.0kWh to 100.0kWh.
Its heaviest model weighs 997 kg.
Design is totally different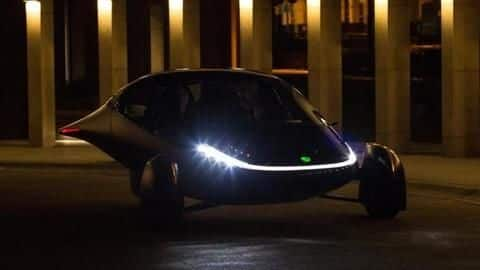 Along with the features, its size is completely different from other vehicles.
It has been given airplane wing design by the company, which makes it attractive as well as different from other vehicles.
For information, let us tell you that this solar electric vehicle has been designed in such a way that it uses only 100 watts of power to cover a distance of one kilometer.
What is top speed?
Apart from the range, the company also claims that the liquid cooled electric motors provided in this vehicle enable it to accelerate from 0–96 km per hour in 3.5 seconds.
Its top speed is 110 mph i.e. around 177 kmph.
It comes in front wheel and all wheel driving options. The front wheel drive option gives a maximum power of 134bhp and all wheel drive version 201bhp.
What is the price?
Please tell that it has been launched in three color variants Noir (Black), Luna (Silver) and Sol (White). The starting price of this solar electric vehicle is Rs 19.10 lakh.