Bollywood actress moves into politics Urmila Matondkar Tax is going to start a new political innings. For that on monday Maharashtra I will join the ruling Shiv Sena.
before this Lok Sabha After losing the election on Congress ticket in 2019, he resigned from the membership of the party, accusing the Congress of petty politics.
In such a situation, discussions about his joining the Shiv Sena have become heated.
Congress held hands in March 2019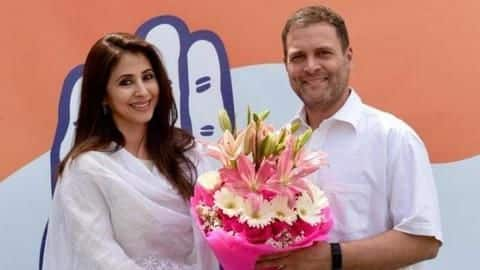 Please tell that Urmila took the hand of Congress in March 2019. After this, the Congress gave him a ticket from Mumbai North in the Lok Sabha elections, but he had to face a crushing defeat in it.
He was defeated by BJP's Gopal Shetty. After that, he became estranged from the Congress office-bearers and he resigned from the party membership in September. Since then, there were speculations about him joining the other party.
Urmila decided to resign after the letter was not processed
Urmila Matodkar had said that her political and social sensibilities do not allow the party's interests to be fulfilled. In Mumbai Congress, home politics is more than working on big goals.
He had decided to resign if party officials did not act on his letter. In that letter, he accused close associates of senior leader Sanjay Nirupam for using him.
His letter was leaked in media
Urmila had said that she had been betrayed by leaking a letter to the party officials to the media. Even after this, no one apologized to him and his protest was continuously sparked.
Shiv Sena is preparing to send Urmila to the Legislative Council
Explain that the Shiv Sena-led coalition government in Maharashtra is preparing to make Urmila Matondkar a member of the Legislative Council.
Urmila's name is also included in the list of 12 names sent by the Mahavikas Aghadi government near Governor Bhagat Singh Koshyari. These names are to be sent from the Governor's quota to the Legislative Council. It was only then that speculations were rife that Urmila would soon join the Shiv Sena.
Which party sent whose name?
Explain that the Mahavikas of Shiv Sena, NCP and Congress are Aghadi alliance. Among the names sent to the Governor, the NCP has sent the names of Eknath Khadse, Raju Shetty, Yashpal Bhinge and Anand Shinde, while the Congress has sent the names of Rajni Patil, Sachin Sawant, Muzaffar Hussain and Anirudh Vankar.
Similarly, Shiv Sena had sent the names of Urmila Matondkar, Chandrakant Raghuvanshi, Vijay Karanjkar and Nitin Bangude Patil. In such a situation, Urmila will join Shiv Sena on Monday.
Started acting career with the film 'Jhakola'
Now Urmila Matondkar, who is going to try her hand in politics, started her acting career in 1980 as a child artist from Marathi film 'Jhakola'.
At the same time, talking about Hindi cinema, the 1981 film 'Kalyug' was the first Hindi film of his film career. Before you enter politics, Urmila had made it clear that she has not become a part of politics due to glamor.