Government of Uttar Pradesh Has taken a major step towards stopping the forced conversion for marriage in the state.
The Cabinet Ordinance meeting on Tuesday approved the Anti-Conversion Bill, 2020 Ordinance created to prevent forced conversions under 'Love Jihad'.
Now this ordinance is likely to be introduced in the winter session of the Legislative Assembly. It will become law after it is passed in the assembly.
Chief Minister talked about making laws against 'Love Jihad'
Please tell Uttar Pradesh Chief Minister at a public meeting held in Jaunpur district during the assembly by-election Yogi Adityanath Had said that according to the Allahabad High Court, conversion to marriage only is not acceptable. In such a situation, the government has also decided to work strictly to stop 'Love Jihad'.
He said that the government will enact an effective law for this. This will lead to action against those who play sister and daughters in secret, hiding name and religion.
After the announcement of the Chief Minister, officers were busy preparing the ordinance
After Chief Minister Adityanath announced the making of the law, the government department was busy drafting a tough law against 'Love Jihad'.
After this, the Home Department drafted the draconian law and sent it to the State Law Ministry. The state government spokesperson confirmed this a few days ago.
This ordinance has been named as the 'Uttar Pradesh Laws Against Conversion Prosecution Ordinance, 2020'. Which BJP leaders call 'Love Jihad'.
The word 'Love Jihad' has not been used in the ordinance – Adityanath
Law Commission Chairman Adityanath Mittal said, "The bill does not use the word 'love jihad'. It will examine cases of conversion related to all religions. It does not focus only on Hindu-Muslim conversion or conversion for the purpose of marriage. Will happen."
He further said that people of two different religions can marry among themselves, but under the new ordinance, action will be taken against illegal or forced conversion.
There will be a provision for punishment of three to 10 years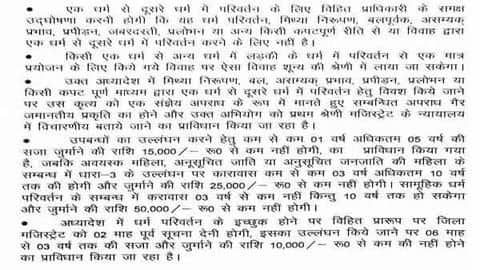 Cabinet Minister Siddharth Nath Singh said that there is a provision of jail of three to 10 years with a fine of Rs 50,000 in cases of forcible mass conversion.
Similarly, there is a provision of one to five years jail with a fine of Rs 15,000 only for conversion.
Similarly, conversion of minors and women of scheduled caste and scheduled tribe community will be imprisoned for 3-10 years with a fine of Rs 25,000.
Permission for marriage will be obtained after conversion to free will
Cabinet Minister Singh said that after conversion, any person will have to get permission from the District Collector two months before marriage. Failure to do so is a fine of 10,000 and jail term ranging from six months to three years.
These states have also said to bring ordinance
Other states have also spoken of bringing an ordinance against 'Love Jihad'. Madhya Pradesh The Home Minister of India Narottam Mishra has asked to bring a bill on it in the next assembly session. There will be a provision of five years of imprisonment.
Similarly, Haryana Home Minister Anil Vij has also said that he will bring a law to stop 'Love Jihad' in the state. Union Minister Giriraj Singh has also demanded to make such a law in Bihar.