Many Bollywood stars have come under the grip of a rising outbreak of Corona virus.
Now The news Neetu Kapoor and she is coming Varun Dhawan Coronas have been found infected. Both of them were shooting for Raj Mehta's film Jug Jug Jio.
with these Kiara Advani And Anil Kapoor Was also shooting. Reports of both of these corona virus tests have come up negative.
Currently, the shooting of the film has been stopped for some time.
Shooting of the film started last month
Anil Kapoor, Kiara Advani and Neetu Kapoor started shooting for the film last month. On this special occasion, Anil Kapoor shared a photo with his fellow artists. His wife Sunita Kapoor was also seen in this photo.
Anil Kapoor captioned 'Happy Diwali !!' Everyone was happy and wrote 'Jug Jug Jio'.
You can see this photo below.
Anil Kapoor with Neetu Kapoor and Varun Dhawan
Neetu Kapoor is returning to the screen after a long time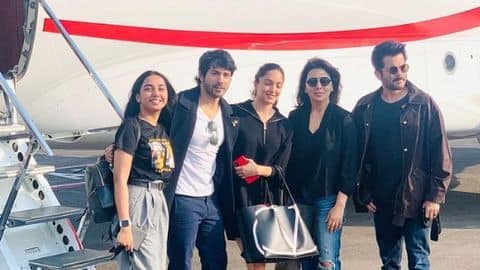 Neetu Kapoor is making her comeback on the big screen with 'Jug Jug Jio'. He shared a photo before the shooting of the film started. This photo of him was taken while taking flight before going to Chandigarh.
With this, he wrote that this is his first flight in this scary time.
Then he also told that his Corona virus The test is done and they are all safe.
The film is the story of a two-generation couple
YouTuber Prajakta Kohli will also be seen in 'Jug Jug Jio'. This will be his first film.
The film is being produced by Karan Johar.
It is being told that this film will show the story of two generation couples. The film will be based on the North Indian family.
It will feature Varun Dhawan in the role of an NRI, while many fun scenes will be shot on Neetu Kapoor and Anil Kapoor.
Anil and Neetu Kapoor will be seen together for the first time in the film
Anil and Neetu Kapoor will be seen working together in a film for the first time. The two have not worked together before. Similarly, Kiara and Varun will also be seen for the first time. This will be their first film together.
Anil Kapoor is in discussion about this film
Talking about the film career of Neetu and Anil Kapoor, Neetu Kapoor was last seen in the film 'Besharam' in 2013. She was also seen in the film with husband Rishi Kapoor and son Ranbir Kapoor.
At the same time, Anil Kapoor was seen in the movie 'Malang' released earlier this year. Apart from this, he has been in the discussion about Karan Johar's multi-starrer film 'Takht' for a long time.
How many total corona cases in the country?
36,594 of the previous day corona in india New cases Came out and 540 patients died due to this. With this, the total number of infected people in the country has increased to 95,71,559. Of these, 1,39,188 people have died.