Australian Premier League 13th season of Indian Premier League (IPL) Glen Maxwell Was spoiled for He had scored just 108 runs this season.
Former Indian cricketer famous for his impeccable opinion Virender Sehwag Had called him 'Cheerleader of 100 million'. Now Maxwell has responded to this comment.
Let us tell you that Kings XI Punjab (KXIP) had included Maxwell in a large amount of Rs 10.75 crores.
Sehwag said this about Maxwell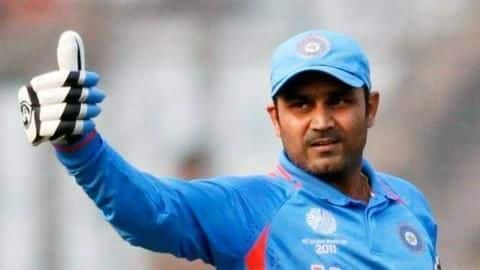 In fact, after the end of IPL 2020, Sehwag made the list of the five worst performing players of this season, including Maxwell.
Sehwag had said about Maxwell in 'Veeru's Meet', "This 10 crore cheerleader was very heavy for Punjab. In the last few seasons, Maxwell's record has been to doom and in this season, he has broken this record . "
Maxwell's answer to Sehwag
Maxwell has said that Veeru, a former KXIP cricketer and mentor, has expressed his disappointment about them earlier. He is not surprised by this comment.
Maxwell said, "Veeru does not like me and speaks highly of it. He can speak whatever he wants. Veeru remains in the news only because of such statements. I proceed with dealing with such things."
This is how Maxwell performed in IPL 2020
IPL 2020 was a nightmare for Glenn Maxwell. He scored just 108 runs in 13 matches with the highest score of 32 in this season. The disappointing Maxwells could not score a single six in the entire tournament.
In the bowling, he took just three wickets. His team could not qualify for the play-offs.
KXIP won just six league matches and finished sixth in the points table.
Maxwell will be eyeing in Australia
Australian all-rounder Glenn Maxwell, who had a disappointing performance in the IPL, would like to do well in the upcoming series against India. He is part of the team in a limited format.
India has to play the first three ODI series against Australia, which will start from November 27. After this, the series of three T-10 matches is to begin on December 04.
Maxwell would like to perform well in both these series.