Diego Maradona, one of the greatest players in Argentina and world football, on Wednesday Goodbye to the world said.
Maradona has scored many beautiful and extremely important goals in his career, but the Hand of God against England has become the most talked about.
The jersey Maradona wore while scoring this goal can now be yours for two million dollars (about 15 crores).
Maradona's jersey is in England's National Football Museum
Experts of American sports memorabilia say that Maradona's shirt may be available for around Rs 15 crore.
The shirt is currently on display at the National Football Museum in Manchester, England.
Maradona himself gave the jersey to England player Steve Hodge in the quarter-finals of the 1986 World Cup after the match ended.
What is Hand of God?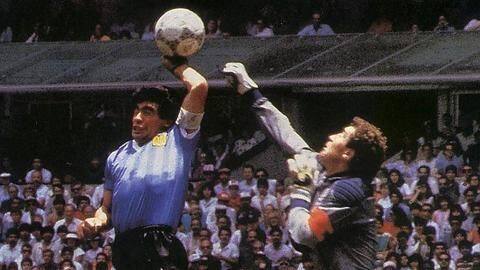 Maradona's first goal against England in the quarter-final of the 1986 FIFA World Cup Quite disputed Was.
He tried to hit the header and delivered the ball to the goalpost with his hand.
England players opposed it, but the referee gave Argentina a goal.
Maradona later described it as 'Hand of God'. The Genius footballer was also called dishonest many times due to this goal.
Maradona was running sick continuously
The great footballer was initially admitted to a hospital where he complained of stress, anemia and lack of water in the body.
After this, he was taken to another hospital where there was a blood clot in his brain, where he also underwent surgery.
After being discharged from the hospital he suffered a heart attack which led to his death.
Maradona's career was like this
Maradona, who played for seven clubs in a club career, has scored 312 goals in 588 matches.
He has scored a total of 42 goals in 106 matches for Argentina. He has played four World Cups for Argentina.
Argentina lost the final against West Germany in 1990 after becoming world champions in 1986.
He has won eight titles in a club career and two with the National Team.