Prime Minister addressing the BRICS Group's Virtual Summit today Narendra Modi The UN emphasized reforms in all international organizations, including the Security Council (UNSC). Apart from this, he also talked about punishing countries that support terrorism without naming Pakistan.
What else Prime Minister Modi said in this conference and what is this BRICS group, let us tell you in detail.
What is BRICS Group?
BRICS is an organization of five countries, Brazil, Russia, India, China and South Africa, which aims to increase economic and other types of cooperation in these countries. It was formed in 2006 and is headquartered in Shanghai.
Earlier only Brazil, Russia, India and China were involved and South Africa was included in 2010.
It is one of the most important organizations in the world due to the presence of countries like India, Russia and China.
Understand how important BRICS group is from data
How important the BRICS group is can be gauged from the fact that almost half of the world's population (47 percent) lives in these countries and has a combined GDP of $ 16.6 trillion, which is 24 percent of the global GDP.
Apart from this, BRICS countries also have a 17 percent share in global trade, while they also have a 50 percent share in global economic development.
China accounts for 68 percent of the group's total GDP.
The group summit takes place every year
BRICS countries have an annual conference every year and are hosted by different countries every year. This year Russia is hosting it and the conference has become virtual due to Corona virus epidemic.
The theme of the conference is 'BRICS Partnership for Global Sustainability, Shared Defense and Innovative Development'.
Prime Minister Modi, Chinese President Xi Jinping and President of Russia Vladimir Putin Top leaders of all the five countries including in this conference attended the conference.
What did Prime Minister Modi say in the conference?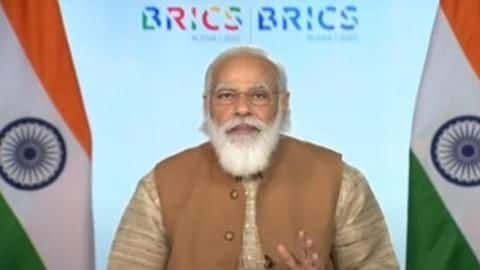 Raising the issue of reforming international organizations loudly at the conference, Prime Minister Modi said, "Today the multilateral system is going through a crisis. Both the credibility and effectiveness of the institutions of Global Governance are being questioned. It is that these have not changed appropriately over time. They are still based on the 75-year-old world mentality and reality. Bharata believes reforms at UNSC are inevitable. "
Terrorism is the biggest problem facing the world- Modi
Raising the issue of terrorism once again, Prime Minister Modi said, "Terrorism is the biggest problem facing the world today. We have to ensure that the countries that support and help terrorists are also blamed and organized methods of this problem Be confronted with. "
While giving assurance in the context of corona virus epidemic, he said that India's vaccine production and delivery capacity will work in the interest of humanity all over the world.