A few days ago, Haryana Deputy Chief Minister Dushyant Chautala had said that if Haryana and Punjab It would be better if both of them leave their claim on Chandigarh and make their separate capital.
He said that if Punjab relinquishes its rights to Chandigarh and High Court, then Haryana can also consider. There is no benefit in leaving Haryana's rights alone.
After this statement, once again the dispute of both the states regarding Chandigarh has come to the surface.
How was Chandigarh made the capital?
Indian Express According to Chandigarh Lahore Made to replace. Lahore was the capital of Punjab before independence, which became part of Pakistan after 1947.
In March 1948, the then Governor of Punjab, India, after taking consent from the Central Government, approved Chandigarh as the capital, situated at the foothills of the Shivalik hills.
From 1952 to 1966, Chandigarh was the capital of Punjab.
How did the two states become joint capital?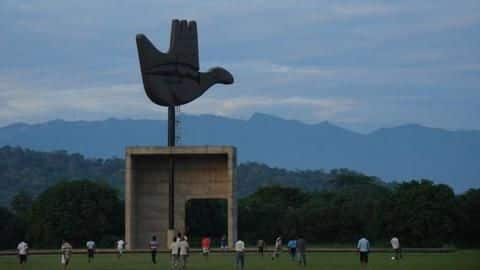 After Haryana came into existence in 1966, Chandigarh became the common capital of two states. After the formation of Haryana, the assets of Chandigarh were divided. Of these, 60 percent came to Punjab and 40 percent to Haryana.
The then Prime Minister Indira Gandhi had said that Haryana would form its separate capital and Chandigarh would become a part of Punjab completely.
Later too many such announcements and agreements were made.
There was talk of Chandigarh in Rajiv-Longowal agreement also
Under the Rajiv-Longowal agreement in 1985, it was stated that Chandigarh would be handed over to Punjab on January 26, 1986, but the Rajiv Gandhi government withdrew on one occasion.
What does Haryana say about Chandigarh?
In 1970, the central government considered several options, including dividing the city into two parts to resolve the dispute.
Since Chandigarh was prepared according to the state capital, this proposal could not be raised.
Haryana was asked to use its office and residential areas for five years. The Center then offered a grant of Rs 10 crore to make Haryana the capital.
These issues are also disputed
In 2018, the Chief Minister of Haryana proposed to form a special committee for the development of Chandigarh, which was rejected by the Chief Minister of Punjab, stating that Chandigarh is unquestionably a part of Punjab.
After this, Haryana passed the resolution in its Legislative Assembly, demanding 20 rooms of the assembly complex which was in the part of Punjab till now. This increased the dispute between the two states.