Corona virus This time due to the epidemic Parliament Winter session may be postponed.
This session usually starts from the third week of November, but this time due to unusual conditions central government Has not taken any decision yet.
Notice is given two weeks before the session, but there is no scent of it yet.
Also, Delhi is currently facing the third and most dangerous wave of epidemic.
Winter sessions have not been called three times so far
India today According to the current situation, the government postponed the winter session to end in January Budget Can call the session.
This will be the fourth time if the winter session passes. Before now, the winter session was not held in 1975, 1979 and 1984 only.
This year, due to the Corona virus, not only the proceedings of Parliament have been affected, but it has also been visited in many sessions.
The epidemic has fallen on the first two seasons also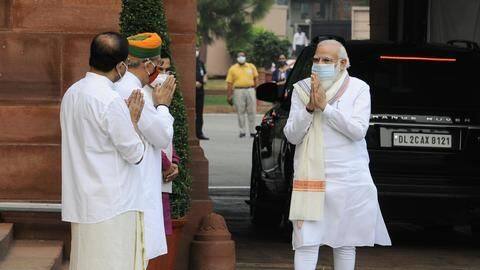 If the winter session is not called, the impact of the epidemic will be seen on the three seasons of this year.
The first two seasons of the year were held under several restrictions and the corona virus protocol, and the third season may be canceled altogether.
In March this year, the budget session was shortened amid fears of an epidemic. Likewise, the epidemic overshadowed the monsoon season.
No discussion on winter session yet
The Cabinet Committee on Parliamentary Affairs decides to start the session together. It also determines the duration of the session.
After consultation, this committee makes its recommendations President To those who call the session.
The committee has not met this time yet. According to sources, there is no chance of meeting of the committee in the coming days.
There are speculations that the winter session may be canceled.
"This session can be mixed with the budget session"
When asked about this, a senior minister of the government said that it would depend on the state of the epidemic and the legislative functions of the government. If the winter session is not called, the government can combine it with the budget session.
Things expected to be normal by February
According to the rules, the next session must be called less than six months after the previous session ends.
If political consensus is formed, there will be no pressure on the government for this and it can organize a session in February.
However, the budget session cannot be postponed as it is mandatory to pass the budget before 31 March.
In such a situation, the government can call a session in February. The situation is expected to be normal by then.